The 2021 coaching carousel is setting up to be one of the wildest in recent memory.
Several of the top jobs in college football are currently open (USC, LSU, and Florida), and a few more could be open by this time next week (Miami? Texas?).
A few weeks ago, I took a guess at who would fill all of the open jobs (including the jobs that open because of a domino effect).
Now that we're approaching the end of the season, it's time to update the list and make a few changes.
Here's who I think will be filling the biggest vacancies in college football over the next couple of weeks.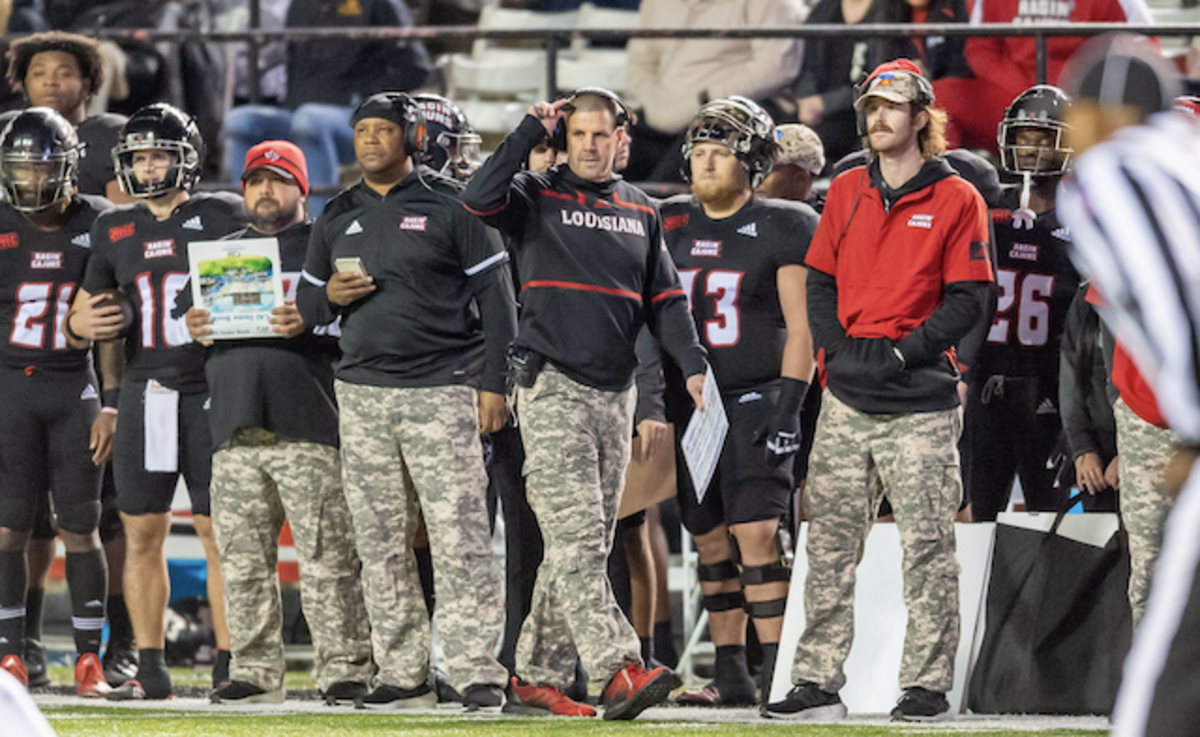 LSU: Billy Napier (Louisiana head coach)
LSU wanted to swing big for this hire, but it can be hard to hire a coach when the previous coach was fired just two years after winning a national championship. Napier knows the lay of the land in Louisiana and should be able to put a good team on the field annually. 
USC: Dave Aranda (Baylor head coach)
Aranda's stock has soared in recent weeks. He has Baylor at 9-2 with a big win over Oklahoma. Aranda is from Southern California, which is another reason this move would make plenty of sense. 
Florida: Mark Stoops (Kentucky head coach)
Stoops has hit his ceiling at Kentucky. This is the perfect time for him to parlay his success with the Wildcats into a better job. If Stoops can find success at Kentucky, surely he can find success in Gainesville. 
Washington: Bryan Harsin (Auburn head coach)
Harsin always felt like an odd fit at Auburn. He doesn't have any southern ties outside of a short stint at Texas. Harsin is 6-5 in his first season at Auburn. It might be a good time for him to get back to the northwest before things go so far south he can't get another head coaching job. 
Virginia Tech: Dave Clawson (Wake Forest head coach)
Clawson has worked wonders in Winston Salem, but just like Stoops at Kentucky, he's hit his ceiling. The ceiling is a bit higher at Virginia Tech, while still being a somewhat lowkey job.
Washington State: Alex Grinch (Oklahoma defensive coordinator)
This just makes too much sense. Grinch was the defensive coordinator at Washington State for three years before spending a year at Ohio State. 
TCU: Sonny Dykes (SMU head coach)
This seems inevitable at this point. Dykes is a Texas native and spent the 2017 season as an offensive analyst at TCU. Dykes is 30-17 since taking over at SMU four years ago. 
Georgia Tech: Dan Lanning (Georgia defensive coordinator)
Lanning is going to be a hot name after the defensive year that Georgia's had. Landing at Georgia Tech would be a nice "starter job" for Kirby Smart's defensive coordinator. 
Auburn: Bill O'Brien (Alabama offensive coordinator)
This is the toughest vacancy to predict. If Harsin leaves for Washington, Auburn is really going to regret letting Gus Malzahn go. O'Brien is probably the "safest" hire the Tigers could make, though it would hardly be exciting. 
Texas: Luke Fickell (Cincinnati head coach)
The feeling is that Fickell is waiting on Ohio State or Notre Dame to come open (or maybe Penn State). I think Fickell knows his stock right now is as high as it'll ever be. And Texas would be a marquee job.
Kentucky: Brad White (Kentucky defensive coordinator)
The best move for Kentucky if Stoops leaves is to just promote White, a former Wake Forest linebacker who has NFL coaching experience. 
Miami: Mario Cristobal (Oregon head coach)
Cristobal is going to be Miami's top target if they fire Manny Diaz. It would be tough for Cristobal, a Miami native, to turn down his alma mater. 
Oregon: Kalani Sitake (BYU head coach)
Would Sitake leave his alma mater? If he wants to make more money and compete for a national championship he will.
Wake Forest: Jamey Chadwell (Coastal Carolina)
Chadwell has been passed up for numerous Power-5 jobs. Wake Forest, however, would be a perfect spot for him. Wake fans would be patient with Chadwell like they were with Clawson. And if he proves himself with the Demon Deacons, he could parlay it into a better gig in a couple of years. 
Baylor: Jeff Grimes (Baylor offensive coordinator)
If Aranda leaves, the logical choice would be to promote Grimes, a veteran coach who has experience at Auburn, Virginia Tech, and LSU. 
Notes: 
Yes, I think Texas fires Steve Sarkisian after one season. And no, I don't think Lane Kiffin leaves Ole Miss. I think Kiffin knows he's playing with fire when it comes to his reputation.
Featured image via Jeffrey Swinger-USA TODAY Sports