Michigan transfer Joe Milton was the Tennessee Vols' starting quarterback for UT's season-opening win against Bowling Green.
Milton played well enough to lead Tennessee to a win, but there's still a lot of room for improvement.
Some of the same quarterback issues we saw under Jeremy Pruitt the last couple of years were the same issues we saw in the Vols' win against Bowling Green.
Milton overthrew several open receivers on vertical routes and failed to locate open receivers on other plays.
Sounds familiar, right?
Those were some of the same issues that plagued Jarrett Guarantano under Pruitt.
Despite those issues, however, I don't think Tennessee fans should have a "here we go again" feeling when it comes to the Vols' quarterback situation.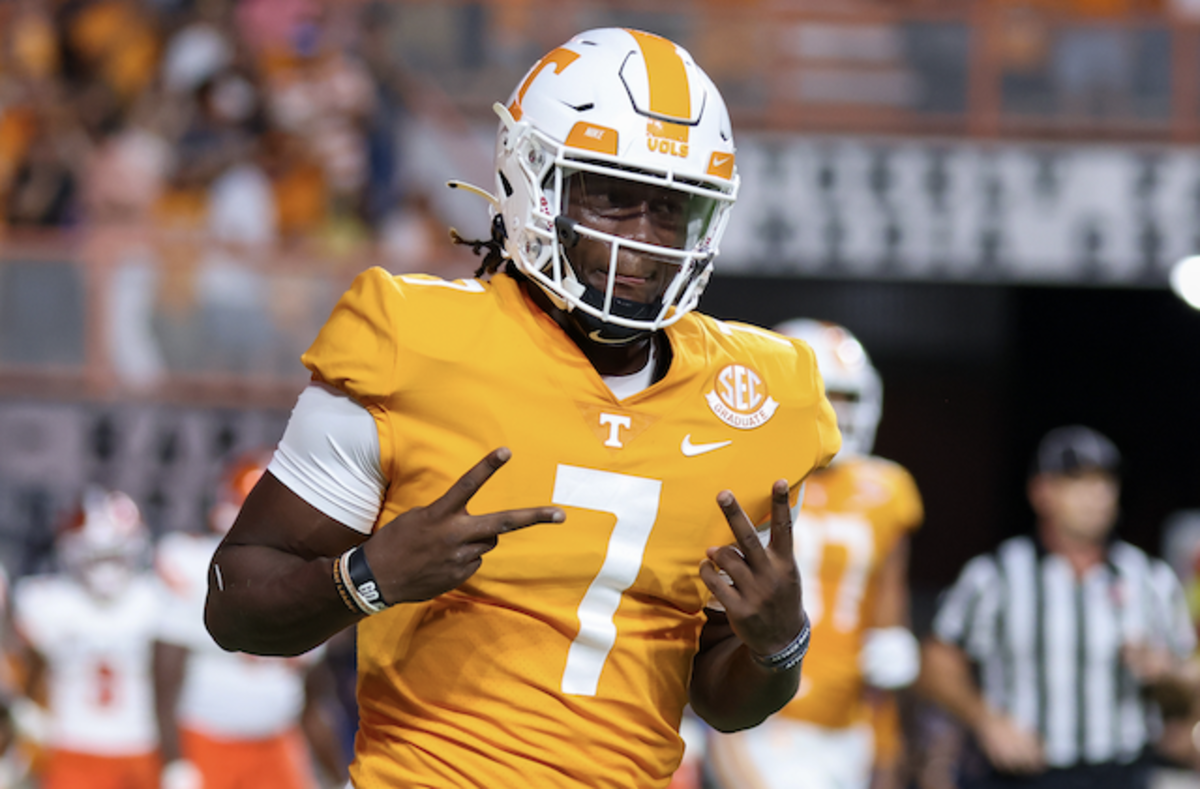 That's because UT head coach Josh Heupel actually knows how to fix quarterback problems. He's been doing it for a long time. When Heupel talks about Milton getting better, he points out specific areas where the quarterback needs to improve, instead of a vague "he needs to better" response (which is what we typically got from Pruitt when he discussed quarterbacks).
"A lot of it is simple execution — it's him (Milton) having eyes in the right spot, his feet being in the right position to be accurate with the football," said Heupel on Monday during a media session with reporters.
"Some things where wide receivers aren't reading (the defense) the same way that he is," added Heupel. "A couple things in protection where he's scrambling…There are things that we can control, that we can do to make sure that we perform at a higher level consistently."
That's a lot different than what Pruitt typically had to say.
"He's (Jarrett Guarantano) a guy that has the talent to get it done," said Pruitt in 2019 after the Vols started 0-2. "We need him to raise his level of play, just like I need to coach better. And every player in our program needs to raise their level of play."
"Raise his level of play" is extremely vague and didn't give fans much confidence that Pruitt would actually be able to fix the quarterback situation.
Heupel, however, has worked with quarterbacks for nearly two decades. He's seen these issues before. That's why his answers are more in-depth. He knows exactly what he needs to do to fix Milton's issues.
Under Pruitt, quarterback play never improved. There was no development. It was the same issue week after week.
I have a strong feeling we're going to see that change in a big way with Heupel at the helm.
Featured image via Randy Sartin-USA TODAY Sports