There's still a lot to learn about the Josh Heupel-led version of the Tennessee Vols after Thursday night's season-opener.
Will the passing game get better as the season progresses?
Is Joe Milton the quarterback the Vols need right now?
How will UT handle tougher SEC opponents?
Those are all questions that will eventually be answered.
But while there's still a lot that we don't know about Tennessee football, there is one major thing we learned during the Vols' 38-6 win against Bowling Green on Thursday night.
Tennessee found their next offensive superstar.
Running back Tiyon Evans.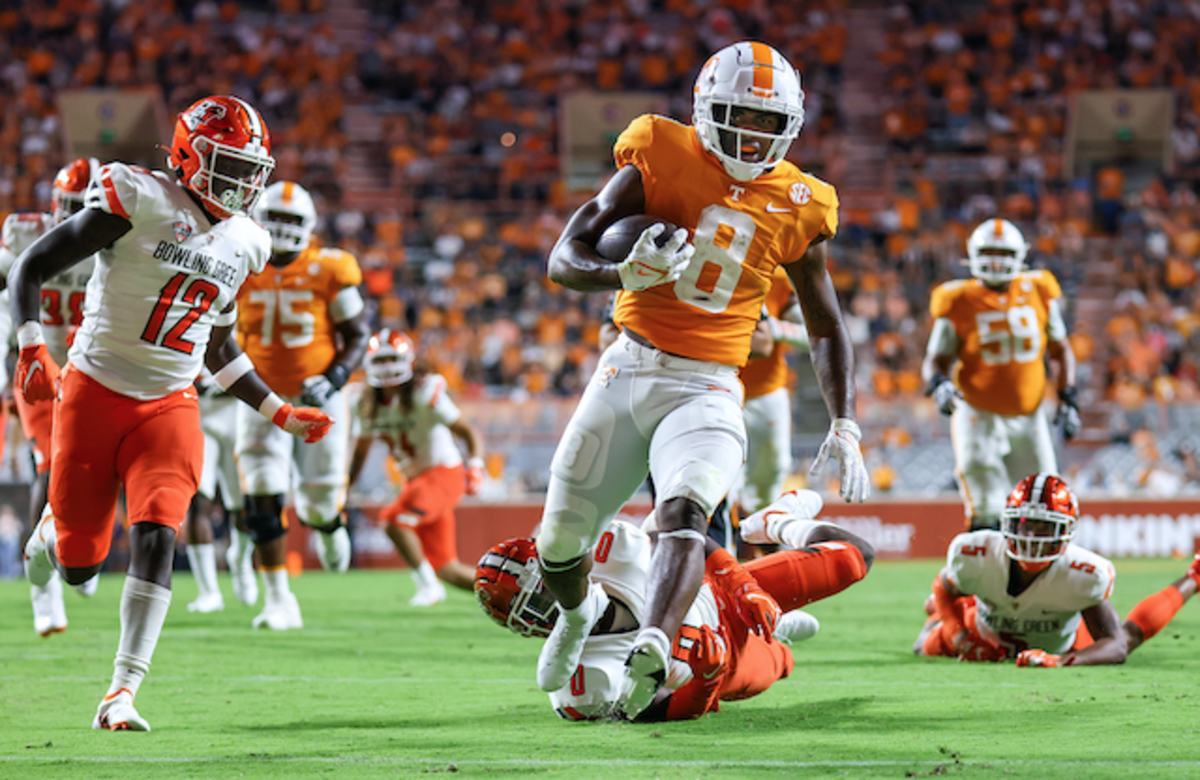 Evans, a former four-star recruit who was rated as the No. 1 JuCo running back in the nation in 2021, had a tremendous debut for the Vols on Thursday night.
The South Carolina native rushed for 120 yards and a touchdown on 16 attempts in the win.
Evans displayed some nice burst and elusiveness that stood out when he had the ball in his hands.
Tiyon Evans gets shifty for a #Vols TD pic.twitter.com/XjqpYwlvVh

— RockyTopTalk (@RockyTopTalk) September 3, 2021
That run instantly reminded me of Alvin Kamara and Cordarrelle Patterson. The elite combination of shiftiness and ability to outrun defenders is something we haven't seen much of since Kamara and Patterson played on Rocky Top.
Now, before you tell me I'm jumping the gun on Evans, consider this: Evans is the first running back to rush for over 100 yards in his debut since Alvin Kamara in 2015. Kamara's debut was also against Bowling Green.
Tiyon Evans rushed for 100+ yards in his Tennessee debut last night.

The last UT tailback to do that? – @A_kamara6 pic.twitter.com/HryLtmg3JB

— Tennessee Football (@Vol_Football) September 3, 2021
It's also worth noting that Evans, Kamara, and Patterson all attended the same junior college — Hutchinson Community College.
When Kamara or Patterson touched the ball while at Tennessee, you instantly got the feeling that a big play was on the verge of happening.
I got that same feeling on Thursday night when I watched Evans play.
The Vols need to get the ball in Evans' hands as much as possible moving forward.
Though I imagine that won't be a problem.
UT offensive coordinator Alex Golesh made it clear last month that he's a big of Evans.
"I think Tiyon has put it all together…I'm excited to see what he can do," said Golesh. "He's a different back than those other guys in the room. He's a bigger back. I've been really pleasantly surprised with him."
"Different" is certainly the right word to use when describing Evans' abilities.
Featured image via Brianna Paciorka/News Sentinel via Imagn Content Services/Randy Sartin-USA TODAY Sports