There are a lot of noticeable differences between Tennessee Vols head coach Josh Heupel and his predecessor, Jeremy Pruitt.
One of the biggest differences is that Heupel isn't a first-time head coach at Tennessee like Pruitt was when he was hired by the Vols.
Pruitt was learning on the job. And his inexperience showed….a lot
One of Pruitt's many mistakes at Tennessee was the way he handled assistant coaching hires.
Pruitt made a lot of staff changes during his three seasons at Tennessee. There was very little continuity between his assistants.
In 2020, Pruitt hired Jimmy Brumbaugh to replace Tracy Rocker as the Vols' defensive line coach. Pruitt then fired Brumbaugh just four games into the season.
When Pruitt hired Brumbaugh in early 2020, he admitted he didn't even interview him.
In retrospect, that turned out to be a major gaffe by Pruitt.
But that's what happens when an assistant coach is learning how to be a head coach.
Tennessee isn't having to go through those growing pains with Heupel. This is his fourth year as a collegiate head coach, after 13 years as an assistant coach at Oklahoma, Arizona, Utah State, and Missouri.
Heupel's process of hiring assistant coaches reflects his experience as a head coach.
When Heupel was hired at Tennessee, he brought most of his offensive staff from UCF along with him.
The one position Heupel needed to fill was his running backs coach.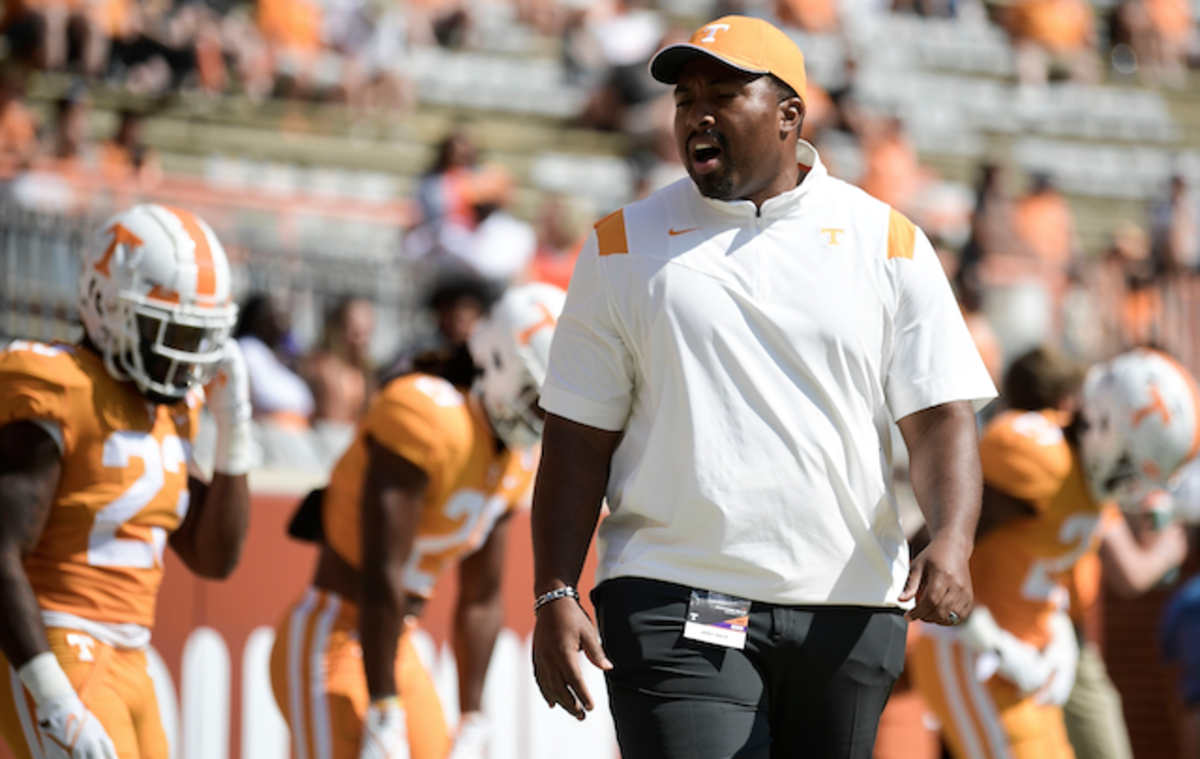 Heupel ended up hiring Rice offensive coordinator Jerry Mack, a Memphis native, as his running backs coach.
The process of hiring Mack was a collaborative effort between Heupel and the rest of his offensive staff.
Mack said on Vol Calls this week that the Monday after the Super Bowl, he had a phone call with "basically the whole offensive staff".
"I got a chance to talk to one of the assistants, and then Monday morning, first thing Monday morning, got a call from basically the whole offensive staff just to talk and had been highly recommended by some guys that they knew and respected and trusted," said Mack on Vol Calls.
This is a great example of Heupel's adeptness as a head coach. He wanted to make sure everyone on his offensive staff was on the same page with the hire.
Continuity is extremely important when it comes to a coaching staff. And it's not always about having the same guys on staff for a decade — assistant coaches are always going to come and go. It's making sure everyone in the program has the same vision.
Heupel gets that. And it's one of the reasons that I feel like he could be Tennessee's most successful head coach since Phillip Fulmer.
Featured image via Calvin Mattheis/News Sentinel / USA TODAY NETWORK