Tennessee Vols running backs coach Jerry Mack could be one and done in Knoxville.
The former North Carolina Central head coach recently interviewed for the Akron head coaching job, though he's reportedly removed his name from consideration.
The @ZipsFB head coaching job has drawn strong interest from both @NFL assistants & top FBS assistants. Am told per source w/ direct knowledge @Vol_Football assistant Jerry Mack interviewed w/ the Zips & was seen as a top candidate but has withdrawn from consideration. #VOLS

— John Brice (@JohnDBrice1) November 19, 2021
While it doesn't appear that Mack will be leaving Tennessee for Akron, it's still apparent that he has his eye on becoming a head coach again, or maybe an offensive coordinator at the Power-5 level.
Considering the Vols' offensive success this season, it wouldn't be a surprise if other programs come after Mack in the coming weeks.
(One wild scenario could be Arkansas State firing Butch Jones after one disastrous season and hiring Mack as their head coach. Mack played college football at Arkansas State.)
Tennessee certainly doesn't want to lose Mack after just one season. Mack has done a good job with the running backs, and he has important recruiting connections in Memphis (Mack is from Memphis). That's a pivotal recruiting area for the Volunteers.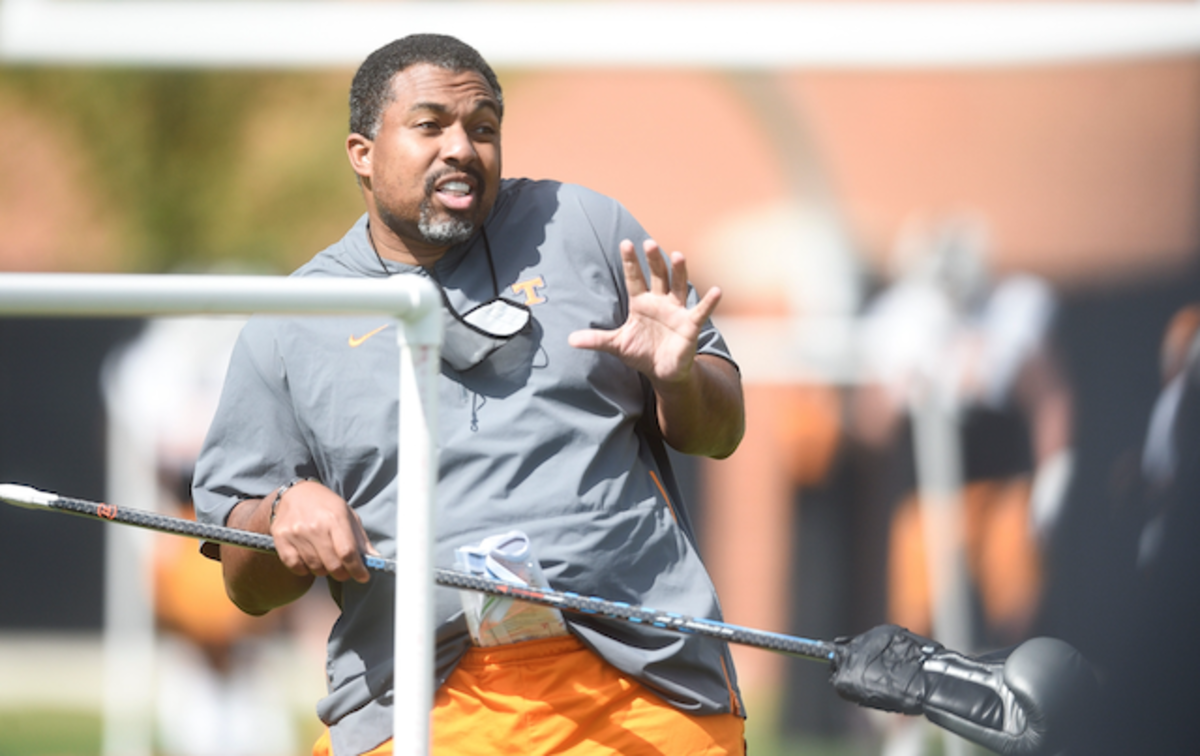 But if Mack chooses to leave, Tennessee has a couple of quality options to replace the popular assistant.
Here are three strong options to replace Mack if he lands a better job this offseason.
Anthony Jones — Memphis running backs coach/recruiting coordinator
This would be my top target if I was Josh Heupel. Jones has been at Memphis since 2017. Prior to joining the Tigers' staff, he was a high school coach at Cordova and Westwood, two Memphis area schools where the Vols need great relationships in place.
Jones is also a Memphis native who played college football at UT-Chattanooga. He's accustomed to coaching in an up-tempo offense and he likely has great connections across the state (Jones actually coached UT linebacker Jeremy Banks in high school).
This would be a slam dunk hire to replace Mack.
David Johnson — Florida State running backs coach/recruiting coordinator
Tennessee fans are intimately familiar with David Johnson, a well-regarded coach who served on Jeremy Pruitt's staff at UT from 2018-2019.
Johnson, who is a New Orleans native but coached at Memphis from 2016-2017, made some not-so-flattering remarks about not trusting Pruitt when he left Knoxville in early 2020.
Johnson did a good job with the running backs during his stint at Tennessee (he coached wide receivers in 2018 for the Vols), and he was a strong recruiter.
If Mike Norvell is fired at Florida State (the Seminoles are currently 4-6), then Johnson could be looking for a new job.
He doesn't have a previous connection to Heupel, but I'm sure Heupel would value Johnson's connections to the Memphis area.
Matt Merritt — Tennessee senior offensive analyst
Matt Merritt would be a solid in-house option for the Vols if Mack departs.
Merritt was hired by Heupel last offseason to serve as the running backs coach at UCF. When Heupel landed the Tennessee job, Merritt made the journey north to join UT's staff as an analyst.
Before joining Heupel at UCF and Tennessee, Merritt was the running backs coach at James Madison.
Merritt was also a graduate assistant at Ohio State under Urban Meyer in 2014.
Promoting Merritt would provide Tennessee's staff with important continuity.
Featured image via Calvin Mattheis/News Sentinel via Imagn Content Services, LLC