Tennessee Titans rookie wide receiver Treylon Burks put it all on the line during Sunday's game, and unfortunately paid the price.
Late in the first quarter of Sunday's game in Philadelphia, Burks gave the Titans a much needed spark on offense when he hauled in a 25-yard touchdown pass from Ryan Tannehill. Burks high pointed the football, hauled it in, took a massive blow to the head from Eagles safety Marcus Epps, and still held on through the contact.
It was the first receiving touchdown in the young career of Burks, but landed him in the locker room after a scary situation on the field.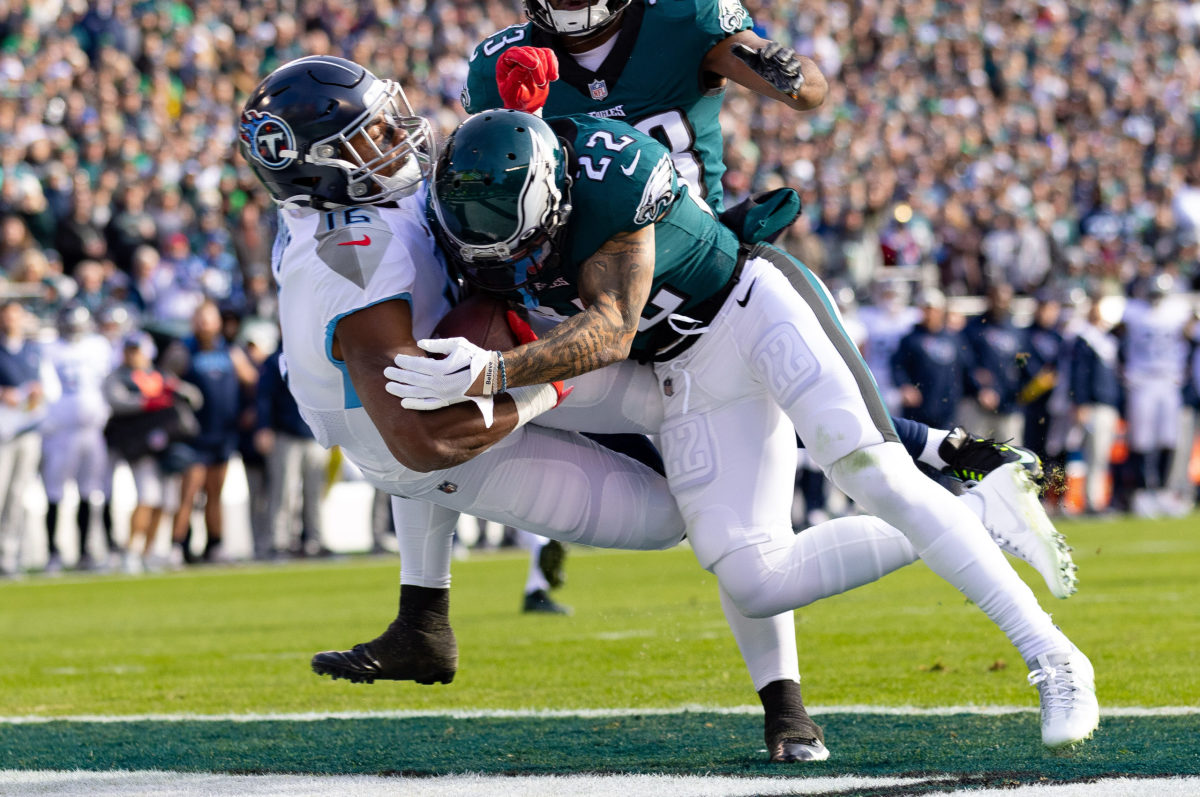 Burks entered concussion protocol, and controversially, Epps was not ejected from the game for a targeting call.
Not only did Burks show incredible heart with his effort on the field, his character also shined through in the locker room after the play. Titans quarterback Ryan Tannehill was asked about the play by Titans media, and Tannehill recapped an incredible moment he shared with Burks at halftime.
Ryan Tannehill talking Treylon Burks and the heart he has: pic.twitter.com/lRuQc7K6ZT

— AtoZ Sports Nashville (@AtoZSports) December 4, 2022
"Huge play. Obviously took a big hit there and held onto the ball. That says a lot," Tannehill said. "First thing when I saw him in the locker room at halftime he said 'I wasn't going to let the ball go.' That just tells you a lot about the kind of guy he is and the competitor he is."
Let that sink in. A rookie wide receiver risking it all for his quarterback, taking a hit, and holding on through the contact because he "wasn't going to let the ball go." If the increase in production and change in attitude since returning from IR wasn't enough to make you bullish on Treylon Burks as a future star, that certainly has to.
Titans fans would have easily traded that one touchdown catch for Burks to have finished Sunday's game healthy and finish the rest of the season at 100 percent. But when a young player shows that level of heart and determination, it's a really cool thing to see.
Mike Vrabel told media on Monday that Burks is "Doing well and feeling well," as of today. The team will continue to monitor his progress through concussion protocol moving forward, with their next game coming Sunday afternoon against the Jacksonville Jaguars.
Image via George Walker IV / Tennessean.com-USA TODAY NETWORK