Let's go ahead and get this out of the way: face-offs in general are overrated in the NHL.
Winning or losing face-offs, in the big picture, is not a good predictor for winning games. Just look at the teams with the highest and lowest face-off winning percentages right now and you'll see what I mean.
The Philadelphia Flyers and New York Islanders are both in the top 10 in face-off win success. Those teams are not likely to make the playoffs. Unlike the Colorado Avalanche and Florida Panthers, who are among the worst at winning face-offs.
However, there are certain scenarios in which face-off wins are important, within the context of a game. Watch any NHL game and you'll hear an announcer talk about a "very important face-off win" usually in a crucial moment of the game. A power play chance, a defensive draw late in the game, an empty net opportunity.
Defensive draws are critical for a team trying to dig out of their own zone. Winning a face-off in the offensive zone immediately creates goal scoring opportunities; winning one in the defensive zone is an instant pressure relief.
So while, again, face-offs really don't matter… in many situations, they do matter.
And who in the league is among the best at winning defensive zone face-offs?
Nashville Predators' center Colton Sissons.
Numbers don't lie on Colton Sissons' face-off skill
Sissons has been the Nashville Predators' best face-off winner for a while now. But when compared to the top face-off guys in the NHL, he's not quite there yet.
Patrice Bergeron, Anze Kopitar, Leon Draisaitl, John Tavares, Claude Giroux… all these guys have face-off win percentages higher than Sissons.
But here's the kicker: none of them take nearly as many defensive zone face-offs as Sissons, by percentage. Here's a look at every center with a higher face-off win percentage AND more face-off wins than Colton Sissons, along with their percentage of defensive zone starts.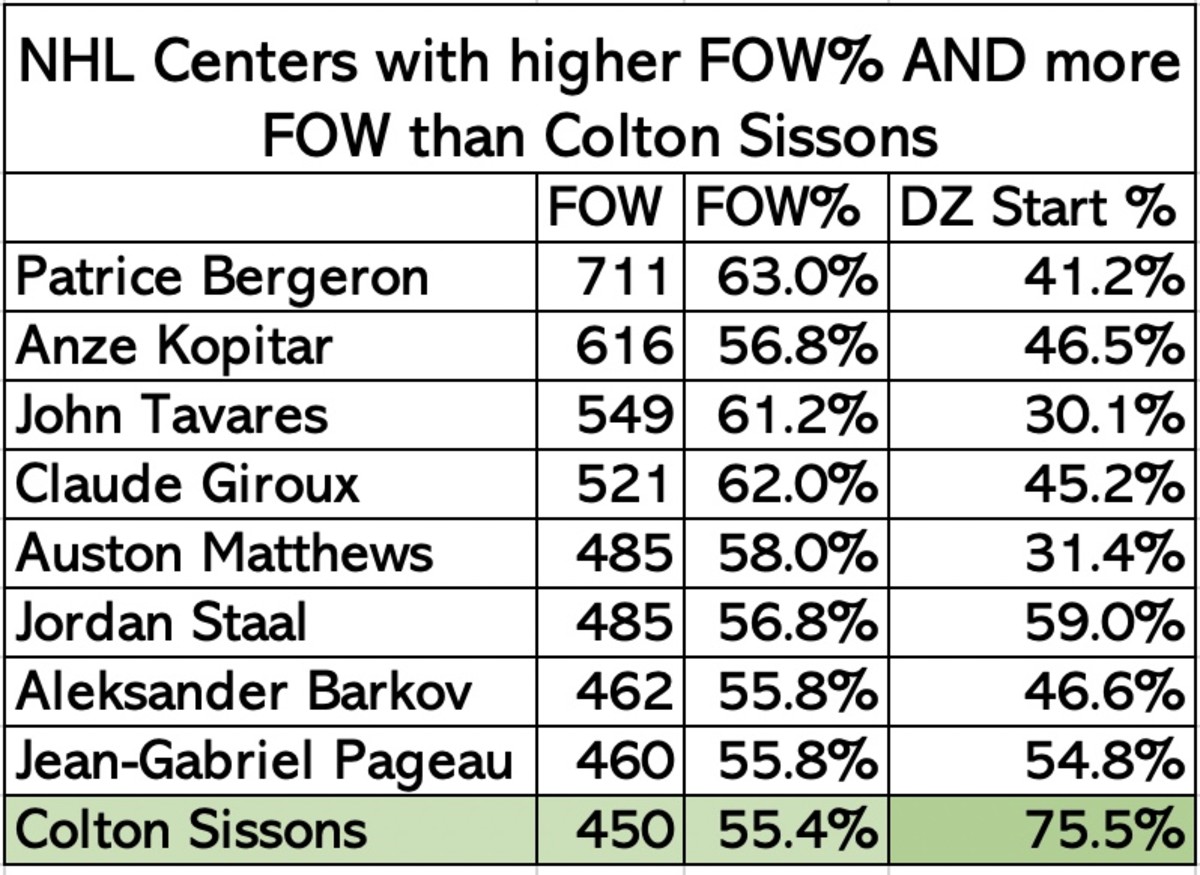 No one takes more of their face-offs in the defensive zone than Colton Sissons. He has to be considered one of the best face-off guys in the league, if anything because of the sheer amount of pressure he faces every single night.
But how does he do it?
Video breakdown of Sissons shows his skills
I put together a tweet thread of Colton Sissons' face-off abilities that you should check out, but here are some highlights.
The first thing Sissons does well is he gets very low on the ice. In face-offs, the lowest man wins. Sissons gets his knees bent, his hips low, and he spreads out as far as he can to maximize his reach on the dot.
Here's a good angle of it:
In face-offs, the lowest man wins. I loved this camera angle we got at the Stadium Series, because you can see how low Sissons gets on the dot. pic.twitter.com/cyxX2bvsUD

— Alex Daugherty (@AlexDaugherty1) March 3, 2022
Being a right-handed player, Sissons uses a power backhand move effectively. The power backhand is the most popular face-off winning technique in all of hockey. It's very difficult to defend. It creates leverage on the dot that is almost impossible to counter if done correctly.
Sissons has mastered it, like many of the guys ahead of him on the list above. Here's a good look at a simple backhand draw win of his from Wednesday's game in Seattle:
I'd like to talk about Colton Sissons and how great he is at defensive face-offs.

To start, he's a top 10 face-off winner overall in the league, but he's the only guy doing it with 75% of his draws coming in the DZ. pic.twitter.com/pC04giTRF2

— Alex Daugherty (@AlexDaugherty1) March 3, 2022
But Sissons doesn't only rely on the backhand draw. He incorporates many different face-off draws into his repertoire. This makes him less predictable and thus more effective.
Set plays, which are common in NHL face-offs, are a big part of Sissons' strategy. Here's one he uses frequently when out there with Yakov Trenin on his wing and Roman Josi behind him: a simple backhand tap to Trenin, who sends it behind to Josi for the control.
Set plays are frequent in FO wins, especially in the DZ. Sissons uses this one in particular quite often, utilizing a quick touch to Trenin on the right side, who touches back to Josi for the control. pic.twitter.com/lf7K5KIMsN

— Alex Daugherty (@AlexDaugherty1) March 3, 2022
Watch for it next time. You'll see that same set play at least two or three times a game. And it works more often than not.
Consistency is key in the NHL. Players come and go, but if you can find at least one thing you do well every game, you will stick on an NHL roster. And while Colton Sissons does more than just one thing well, his face-off winning abilities, especially in the defensive zone, will keep him on a roster for as long as he wants.
— Featured image via Christopher Hanewinckel/USA TODAY Sports —