After their 5th straight win, and having remained atop the Western Conference standings for a full week, the Nashville Predators can no long remain unnoticed.
In a raucous Bridgestone Arena on Tuesday night, the Preds beat the Colorado Avalanche 5-4 in overtime. Matt Duchene scored his 2nd goal of the night to secure the win, but not before a frenetic, fast-paced hockey game featuring highlight reel plays from some of the best players in the game right now.
Juuse Saros made 40 saves. Cale Makar scored an incredible, pin-point wrist shot goal to tie the game. Matt Duchene scored twice, including a highly skilled play in the front of the net. Nathan MacKinnon ripped home a power play goal. Roman Josi skated in and around Avalanche defensemen all night.
Matt Duchene with a laser beam off the rebound to win it for the #Preds. Wow, what a game.

(via @PredsOnBally) pic.twitter.com/3MC7la1BY1

— Alex Daugherty (@AlexDaugherty1) January 12, 2022
It was an All-Star game that actually counted in the standings.
"Two of the top teams right now currently in our division going at it," Matt Duchene after the Preds win.  "We knew this was a really good measuring stick, a statement game for us to show that we're for real. [Colorado] is a heck of a team."
Colorado came into Bridgestone Arena having won five straight, all five by "coming from behind." Nashville had won four straight, mostly by getting a lead early and holding onto it late.
"[Colorado] can change a game in a hurry. They've been doing that the last few games, they just impose their will on teams late and come back and win. We knew they were gonna push, and luckily we were able to outlast them."
With the win, the Preds move to 24-11-2, but they have an 18-0-1 record when leading after two periods. It's all part of the team's "smart not safe" play that John Hynes has mentioned, building off of momentum late last season, and the team's mental toughness that he's preached from day one.
The bottom line is that this is a Preds team that the rest of the NHL has to start taking seriously.
Duchene on adversity, character in the room
Of course, it hasn't been an easy road to get to this point for the Preds.
Last year, there were more than a few doubters about the Preds, not just because of their product on the ice, but because of how they were built.
A combination of aging stars, big free agents not living up to contracts (i.e., Matt Duchene) and underperforming star players made the Nashville Predators seem like a team on a downward trajectory. And after yet another first round playoff exit, this time to the Carolina Hurricanes, that assumption seemed valid.
"For a lot of us, we've gone through a lot of adversity," Duchene added. "Obviously I heard the one question about me earlier. You know, there's a lot of guys that were in kind of the same boat as me. People questioning us. When you kind of hit rock bottom, you hit adversity, it's about how you bounce back. It's what you do next that's important."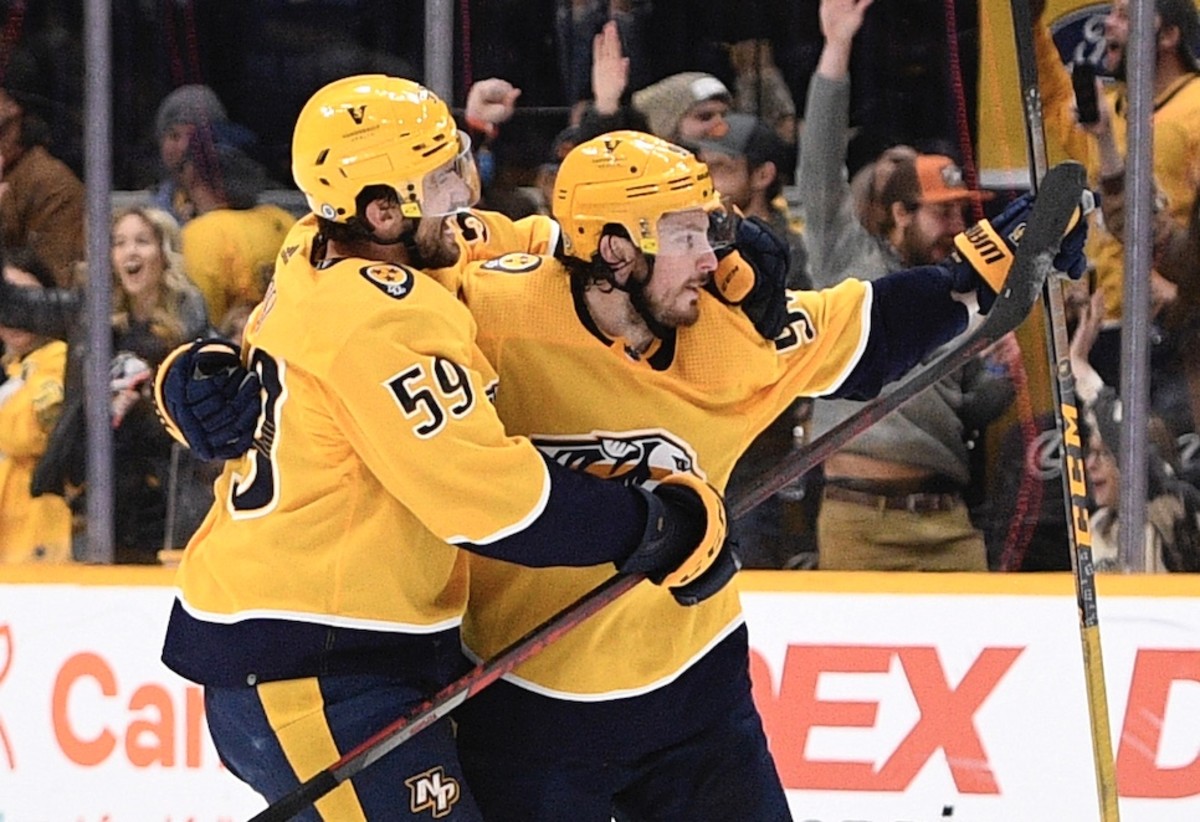 And what did the Preds do next? Win 24 of their first 37 games of the new season, fueled by all of their highest paid players finally producing at the level they are expected to. Matt Duchene has 33 points in 33 games. Filip Forsberg leads the team with 18 goals. Ryan Johansen already has 10 goals, three more than he had in all of 2020-21.
"We were never gonna let this team get disbanded and let this team go to waste because of the talent we have. We have too much character and too much leadership. Too much care in that room. Too many guys that give a damn."
It's that "give a damn" factor that the Preds lacked last year. Too many times the Preds lost their edge in hockey games. Getting outmuscled for the puck, settling for low quality scoring chances, watching early leads evaporate, and committing bad penalties. That was the old Preds.
This year? It's a new vibe.
"We are finding ways to win different games, all different types. I mean, you play a game against Arizona that's a very different game than tonight. And you win both games. You take care of business. I think just our ability to stay even keel and no matter what other teams throw at us, whether we are down 3-0 in Washington or whether we're up tonight 2-0 and they come back to tie it, we're just level the whole time."
There's still 45 games to play for the Preds; more than half their season remains undecided. It's possible this team could take a turn for the worse, either due to a sharp drop in production or some major injury issue.
But based on this Nashville Predators' level of "give a damn", I doubt there's much that could stop them right now.
— Featured image via Steve Roberts/USA TODAY Sports —