While your Nashville sports summer has probably been full of Nashville SC soccer, the potential arrival of MLB baseball, and the impending disappointment of the Tennessee Titans, it's time to begin diverting your eyes to the local hockey team in town.
That's right. The 2021-22 Nashville Predators season is nearly here.
Everything begins this weekend with rookie camp starting on Thursday, September 16th. Full training camp begins the following week, with a full slate of preseason games to kick off on September 26th.
Important dates coming up for #Preds:

9/16 – Rookie camp opens
9/18-21 – Preds rookies in FLA for scrimmages
9/26 – Preds @ Panthers (1st full preseason game)
10/2 – Preds vs Lighting (1st home preseason game)

Full training camp opens up somewhere in there, no exact date yet.

— Alex Daugherty (@AlexDaugherty1) September 13, 2021
A quick recap of the Preds' offseason.
Many familiar faces are gone. Ryan Ellis (traded to Philadelphia), Viktor Arvidsson (traded to Los Angeles), Calle Jarnkrok (selected by Seattle in expansion draft), and Pekka Rinne (retired) will not play for the Preds this season.
New faces will soon be in town. Cody Glass and Philippe Myers were acquired in the Ryan Ellis trade, plus David Rittich will be the new backup goalie.
Several young players like Philip Tomasino, Rem Pitlick, and Eeli Tolvanen will be expected to play big roles on the team moving forward.
With rookie camp one day away, here's a look at three players to keep your eye on this weekend.
David Farrance – D
David Farrance, who made his debut with the Preds on April 8th, 2021 against the Detroit Red Wings, played in only two games last year. One of those games was the regular season finale on May 10th against Carolina, aka "Pekka Rinne Night."
There's not much to say about Farrance's first two NHL games. He played 22 minutes on May 10th, a night in which the Preds rested most of their starters, but overall he played well.
Watching some of those games back, he played with plenty of confidence, speed, and intelligence from the left defense position. He brings a lot of that confidence from his time at Boston University, where he was a finalist for the Hobey Baker award in 2020-21.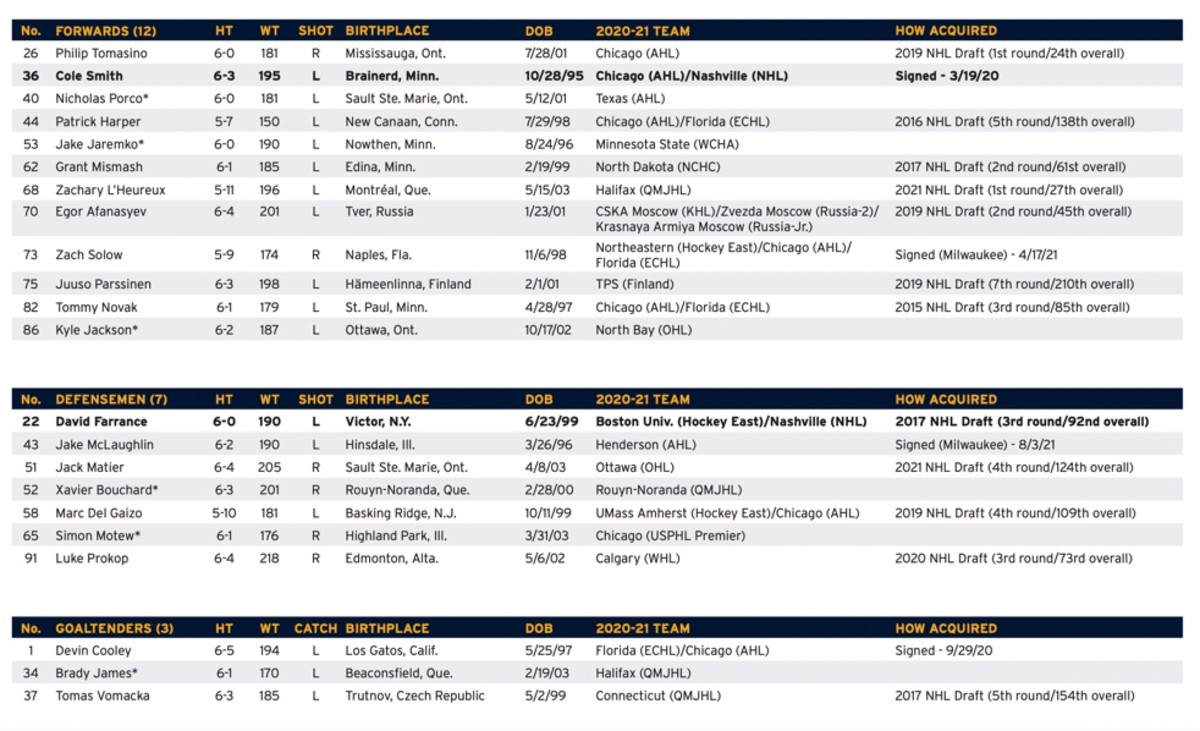 The Predators are very high on David Farrance. It might be one of the reasons why they were willing to trade away Ryan Ellis. Farrance joins Jeremy Davies and Alex Carrier as the future of the Predators' defensive corps and a strong rookie camp from him will go a long way to landing him an opening night roster spot.
Philip Tomasino – F
The Preds' top 2019 draft pick is a key piece of their much improved prospect pool. Tomasino made mince meat of the OHL, amassing 196 points in 190 games over three years. Then last year, for the AHL Chicago Wolves (the Preds temporary minor league affiliate due to the Milwaukee Admirals opting out of the 2020-21 season), he managed 32 points in 29 games.
The Nashville Predators haven't had many "point per game" (1.0 ppg) forwards come up through their development system. Filip Forsberg (.72 ppg) and Viktor Arvidsson (.84 ppg), two of the best offensive players in franchise history, didn't accomplish that. Eeli Tolvanen (.66 ppg) the Preds' latest scoring hopeful, didn't even come close while playing in the KHL.
Tomasino finished with 1.10 points per game in the AHL last season after finishing with 1.03 points per game in the OHL.
So, to say that Philip Tomasino is a highly touted offensive prospect for the Preds is an understatement.
The only question about Tomasino is which position he will play. This will be interesting to watch in rookie camp especially.
Tomasino was drafted as a center, but seems to have been moved to wing recently. The Predators have never been effective at developing centers, frequently drafting them at that position, then moving them to wing soon after. This happened with Colin Wilson, Austin Watson, and Calle Jarnkrok (though he was traded for) most recently.
This is important because it means they've had to rely on trades and free agency to acquire centermen. This hasn't exactly worked out in their favor, having overpaid for Matt Duchene, Ryan Johansen, and Nick Bonino (at the time).
Keep an eye out for where Tomasino plays during this rookie camp. This doesn't just mean whether he takes face-offs or not: keep an eye on where he is on the ice. Is he chasing pucks in the corner and relegated to forechecking pressure? Or is he governing the middle of the ice, supporting his wingers and making plays with the puck in the danger zones (i.e., the slot)?
Zachary L'Heureux – F
First, it's going to take me a while to remember how to spell Zach's last name. Much longer than it will take for Preds fans to begin noticing Zach on the ice.
As I mentioned in this article, Zach L'Heureux is going to be an immediate physical presence whenever he finally takes the ice for the Preds. He's not physically imposing with his height and weight, but he is with his style of play. He frequently gets under the skin of his opponents, drawing penalties (and taking plenty himself), and taking advantage of his opponents' aggressiveness.
But he also does not lack for skill, the way some previous "enforcers" have before. (Side note: please do not misread me… L'Heureux is not an enforcer. I only use that term because most are familiar with it. Enforcers, at least in their original form, no longer exist in the NHL.) L'Heureux finished with 1.05 points per game in the QMJHL the last three seasons, so he knows what to do with the puck.
At rookie camp, it will be interesting to watch how aggressive L'Heureux plays. Does he back off a little, knowing that he can't truly let loose in a practice setting? Or do we see a full-throated L'Heureux, barking at his fellow prospects, fighting as hard as he can for every puck, and earning ice time the way he did for the Halifax Mooseheads?
If it's the latter, I'd say we see L'Heureux dominating not only rookie camp, but also full training camp a week later. Then we'd likely see him on the opening night roster, as that is exactly the type of player the Nashville Predators desperately need.
— Featured image via Christopher Hanewinckel/USA Today Sports —