The success of the Nashville Predators this season has been a surprise to some (though not to others), as many did not see a "competitive rebuild" turning around so many wins early on.
Sure, there's a long way to go in John Hynes' first full season as head coach, but sitting in 2nd place in the Central Division in mid December is encouraging. With 35 points in their first 28 games, and currently riding a five game winning streak, the Preds are playing very well.
There are several reasons why the Preds are finding success. Consistent contributions from their top paid players, improved defense, improvement on the power play, and, of course, stellar goaltending from Juuse Saros.
Another consistent factor with the Preds this season? Their ability to hold onto leads late in games: Nashville is 12-0-0 when leading games after two periods.
Preds are flawless when leading in 3rd period
Of course, most teams have a solid record when leading after two periods. It's tough to stage a comeback on an NHL team in this era. Coaches can throw a neutral zone trap on the game and goaltenders are good enough to stop everything they can see.
Here's a look at the records of Central Division teams when leading after two periods:
Record when leading after two periods:

NSH 12-0-0
MIN 11-0-0
STL 9-0-2
COL 14-1-1
WPG 9-0-0
DAL 8-1-1
CHI 5-1-1
ARI 1-0-0

— Alex Daugherty (@AlexDaugherty1) December 14, 2021
Nashville, Minnesota, and Winnipeg are the only good teams (sorry Arizona, your one win does not matter here) without a "blown lead." The Preds are not the only team with success in holding onto a lead: as I mentioned already, most teams have a high winning percentage when leading at some point in the game. Late comebacks in NHL games are exciting, but rare.
But getting an early lead has been particularly important for the Nashville Predators' this season. They are 12-2-0 when scoring the first goal of the game, and they have an 11-0-0 record when leading after the first period. Conversely, they are 5-8-1 when the opponent scores first, and have a 2-8-0 record when trailing after the first.
John Hynes: "Play smart, not safe"
After Sunday's 1-0 win in New York, a game in which a 2nd period Philip Tomasino goal held up to secure the victory, John Hynes explained the team's mindset when leading late.
"It's always a challenge, because for us, we want to be able to get the next goal," Hynes said. "It's about staying on the attack. It's really about playing what gives your team the ability to have success. For us, we would like to be able to stay on the attack. Hem the other team in. Not want to take on water."
Hynes also elaborated on what coaching points he and his staff use with the team when holding onto a lead late.
"I think what happens is, we use the phrase with out guys in these situations, and we've got to continue to get better at it, is to play smart, not safe. I think when you play a safe game, you don't make plays with the puck, you back off a little bit."
John Hynes on balancing the team's approach when up 1-0 late in the game. Thought this was a great explanation of how he and his staff handle these situations.

"Play smart, not safe"#Preds pic.twitter.com/kzmpeEZRQ0

— Alex Daugherty (@AlexDaugherty1) December 13, 2021
And there's an important difference between playing "smart" and playing "safe", as Hynes points out.
"Guys don't want to make the mistake, the other team is gonna push. I think that's the big thing, is when you're holding onto a lead is to play smart, but not safe, where you can stay on the attack and you don't want to just defend. And defend and defend and defend. You just have to make sure that when you're called upon to defend in those situations, the attention to detail and the commitment level has to be high. But the other way, you could also go out and get the next goal and increase the lead."
Take for example Sunday night. With the Rangers bearing down to tie the game, the Preds stayed on the attack for most of the period. Despite the score, the Preds nearly equaled the Rangers in expected goals (.24 to .25) and out-chanced them four to one.
"Getting the next goal" is as important to this Hynes-led team as protecting the lead. And it's leading to wins.
Who does Hynes call upon to protect leads?
When entering the 3rd period with a lead, Hynes has a number of options. Does he deploy the top offensive players more often to try to get "the next goal"? Or does he rely on role players with more defense in their game to protect the lead? What combination of players "gives the team the ability to have success" as he mentioned.
Using this deployment chart from Hockey Viz, you can see exactly whose share of ice time goes up or down depending on the game situation.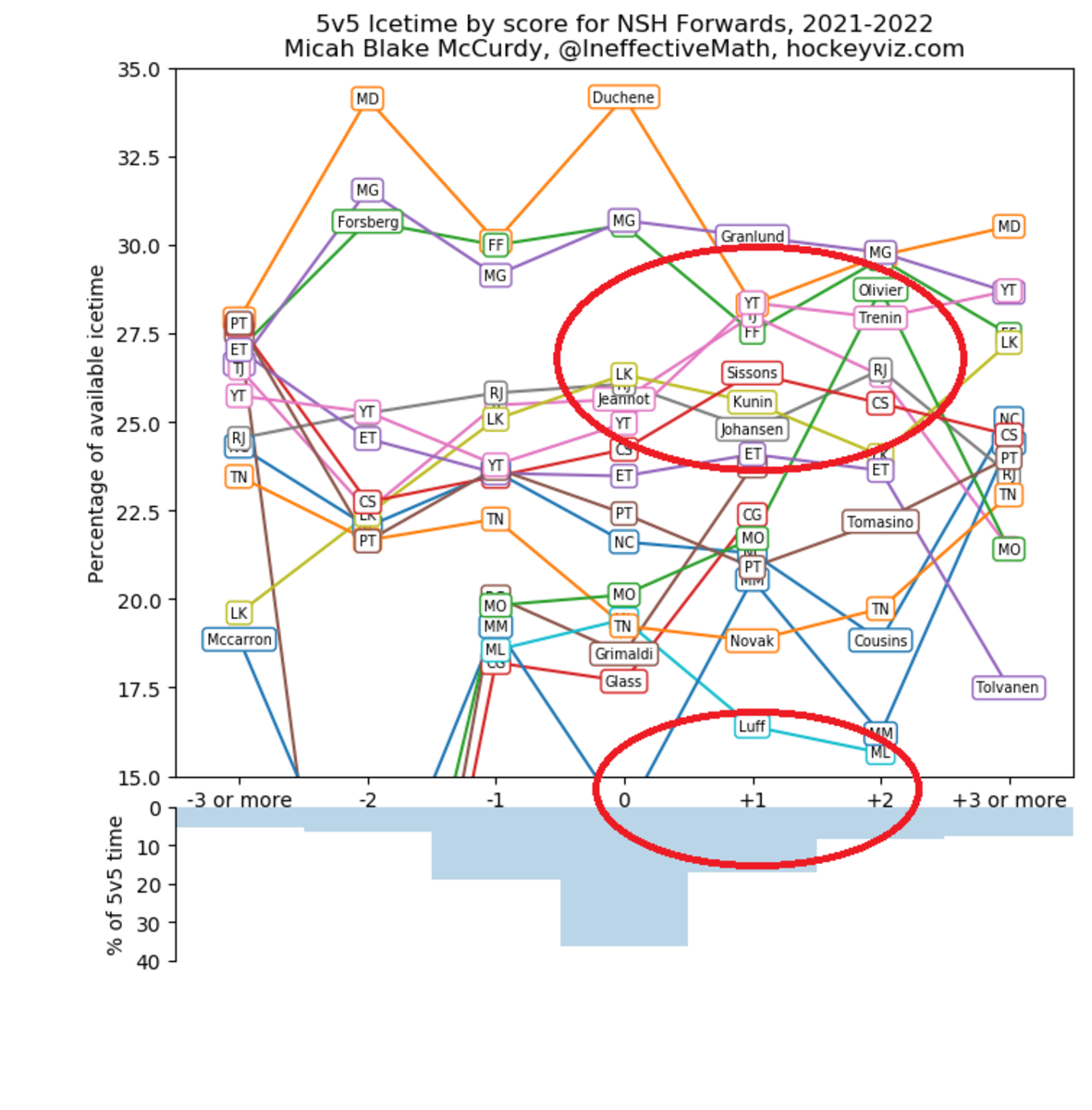 Indicated by the red circles I've added, there are three names who see an increase in their share of ice time when the team has a lead: Yakov Trenin, Tanner Jeannot, and Colton Sissons.
Who does Hynes rely on late in games to keep the game in the Preds' favor? The forward line that symbolizes the team's identity. Tough to play against, large physical presence, skilled, aggressive forwards that do not get tunnel vision when it comes to the opposition. The "Herd Line" is always looking to push in transition and they have a knack for creative play in the offensive zone.
Against the Rangers on Sunday, the Jeannot and Trenin line (playing with Michael McCarron since Colton Sissons was out with an injury) had several crucial shifts in the 3rd period. At one point, they held the puck in the Rangers zone for nearly their entire minute-long shift, cycling the New York defense over and over, tiring them out, and forcing a line change.
It's that kind of persistent, aggressive threat that keeps opponents off their game. It's why Hynes trusts that line, along with defenders like Roman Josi, Mattias Ekholm, and Dante Fabbro, to help protect a lead, or even help it grow.
Playing smart, not safe. Knowing that getting the next goal is just as important as preventing one. Not backing off, not playing defensive.
These things are not only what make the Nashville Predators a tough team to come from behind to beat, but also what has launched them into 2nd place in the division.
— Featured image via Danny Wild/USA TODAY Sports —