Tennessee Vols football practice has been fully closed to the media in recent weeks.
I've seen plenty of comments on social media about UT head coach Josh Heupel's decision to close practice, ranging from "who cares" to "what is he so afraid of other teams seeing?"
Most of the time, I'm firmly in the "what is he so afraid of other teams seeing" camp when it comes to limited practice access.
But in Heupel's case, I can kind of understand it.
That's because Heupel has a unique game plan each week that's dependent on what he expects the opposing defense to look like.
Some weeks it might mean a heavier emphasis on the run. Other weeks, Heupel may see an advantage in the secondary.
Completely closing practice allows Heupel to keep the Vols' plan of attack more of a secret (especially since Tennessee often opens practice with team periods under Heupel).
UT's offense is based on predicting what the defense will do
Vols' running back coach Jerry Mack talked about Heupel's offensive approach this week with reporters.
"I think it's more about whatever the defense presents for the week," said Mack. "From a personnel standpoint, we know that we have three really good (running backs). We feel like it's just about whatever the defense presents and creating mismatches."
"Sometimes, the defense for the week will allow us to (use two running backs)," added Mack. "Sometimes, we will have different directions that we want to go in with our game plan. We are just always trying to come up with those creative ways."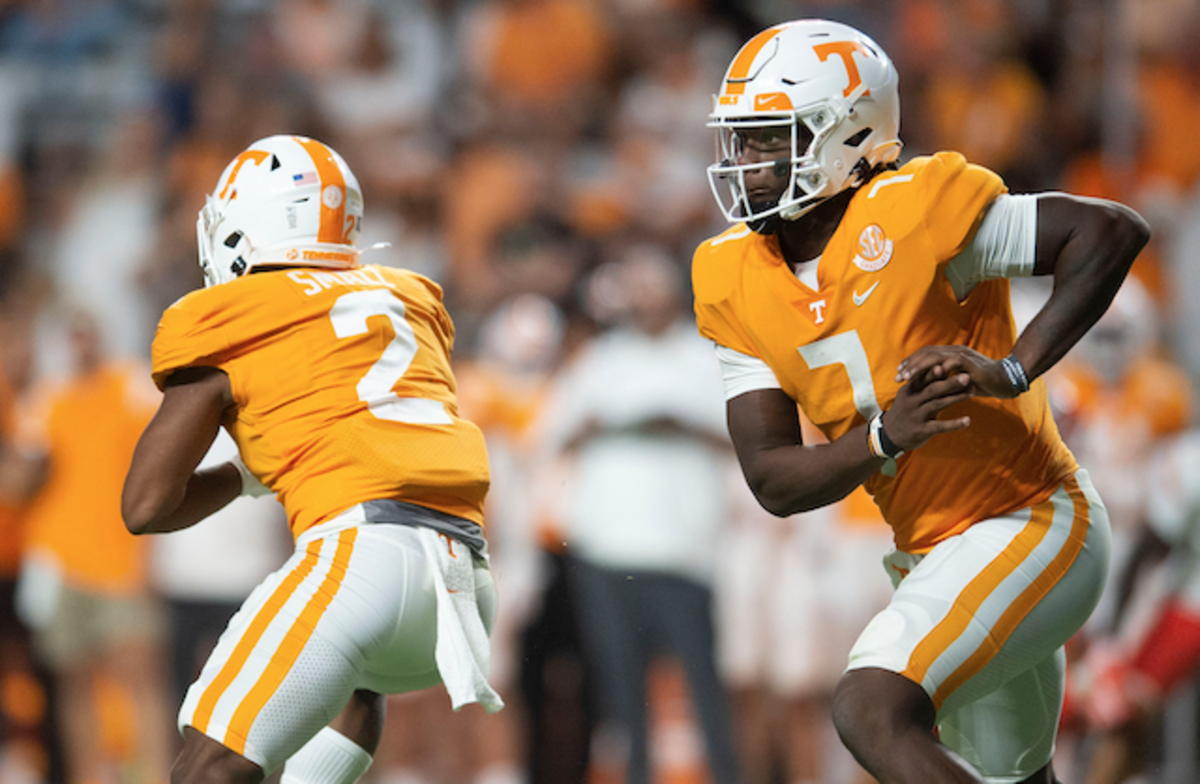 It's a bit of a chess match where the defense has to decide if they're going to switch up their typical looks, or if they're going to roll with their normal defensive philosophy.
If it's the latter, there's a good chance that Heupel will find a way to exploit weaknesses in the defense. If it's the former, there's a better chance of success for the defense, but there's also the possibility of missed assignments, confusion, and communication issues.
Against Bowling Green, the Vols weren't planning to run the ball as much as they did. But they had to adjust the game plan when Bowling Green gave Tennessee some looks they weren't expecting.
"The other night, the way things unfolded, structurally, what they were doing defensively gave us the ability to run the football," said Heupel during his appearance on Vol calls this week. "We're going to be a team that's balanced and try to attack where we see weaknesses. And that can be structure, it can be personnel. I thought our guys adjusted to the difference in what we had prepared for and what we saw, really, pretty well, especially in the run game."
Interestingly, Heupel mentioned publicly on Thursday that he expects Pittsburgh to play man-to-man coverage on the outside this week.
You almost have to wonder if this is a bit of gamesmanship from Heupel.
Pittsburgh might be thinking that if Heupel is expecting man to man, maybe they should have a different defensive approach. Or maybe they're trying to decide if they should go ahead with their plan and hope to win the matchups.
It's essentially a guessing game.
That's why it's so hard to prepare for Heupel's offense.
Featured image via Calvin Mattheis/News Sentinel via Imagn Content Services