Tennessee Vols head coach Josh Heupel is off to a good start in Knoxville, but he still has a lot to prove as the leader of UT's football program.
The Vols are 4-2 in Heupel's first six games. That's a better start than previous Tennessee head coach Jeremy Pruitt had in any of his three seasons at UT (his best start was 3-3 in 2018).
The four wins and the high-scoring offense already have some fans thinking about how long Heupel will stay at Tennessee.
Heupel, after all, doesn't have any deep Vol connections. He's a South Dakota native who led Oklahoma to a national championship in 2000. Heupel also coached in Norman under Bob Stoops from 2006-2014.
Would Heupel leave for the Sooners if the Oklahoma job ever came open?
It's probably far too early to even think about that. First off, Heupel would have to be offered the job (remember, he was fired as Oklahoma's offensive coordinator after 2014, taking the fall for a bad defense that was No. 56 in the nation, compared to Heupel's No. 21 scoring offense that season). Then there's the question of whether or not he'd want to be tasked with leading his alma mater. That's not always an automatic decision for a coach.
Vol fans have been through this before. At one point, fans were worried that Michigan would come after Butch Jones. And when Jeremy Pruitt went 8-5 in 2019, there was concern that he could be the successor to Nick Saban at Alabama.
Both of those scenarios are laughable in retrospect. It's certainly possible that Heupel could end up going down the same path.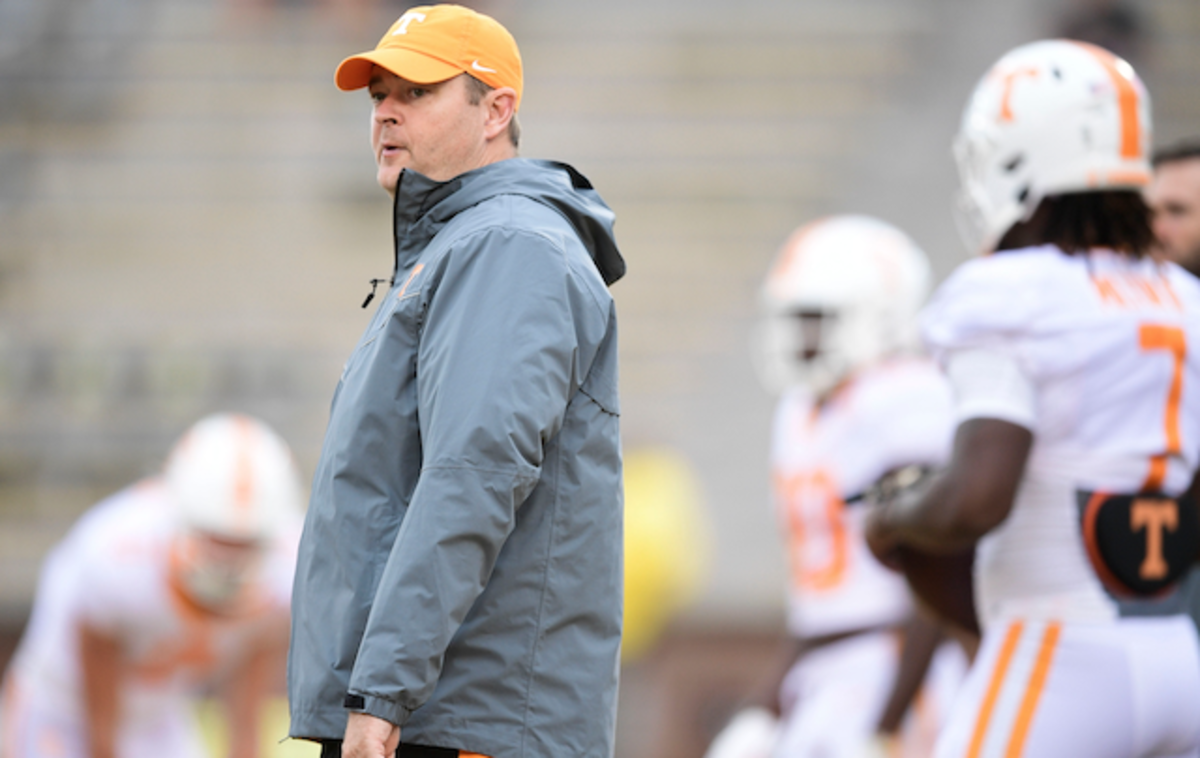 Josh Heupel discusses longterm coaching plans
On Wednesday night, Heupel made his weekly appearance on Vol Calls and he was asked about his long-term coaching plans and how long he plans to stick around on Rocky Top.
Heupel made it clear that he views Tennessee as a destination job.
"I came here because this is a destination job," said Heupel. "Came here because of the power of the T, the power of the fan base. I've been here previously as a competitor and just felt like this was a special place.
"You drive up, you're driving along the river, you see the Vol Navy. There's not a better atmosphere, better place in college football to play or to coach. I've got two young kids, and my wife and kids absolutely have fallen in love with the place. The community's been awesome. This is where we plan on calling home for a long time."
It's evident from the way Heupel talks about Tennessee's traditions and former players that he's in love with everything about the Vols.
Josh Heupel talking about Leonard Little meeting with the Vols defensive line before the game pic.twitter.com/IcyANue4fj

— zach ragan (@zachTNT) October 10, 2021
It's never wise to predict what a coach will or won't do, but it certainly feels like Heupel could be the longest-tenured Tennessee football coach since Phillip Fulmer was leading the program.
Featured image via Calvin Mattheis/News Sentinel / USA TODAY NETWORK/Bryan Lynn-USA TODAY Sports