By this time next week, Tennessee Titans training camp will be in full swing for the 2022 season and seasons storylines will begin to take shape. 
We're days away from hearing from Mike Vrabel, Jon Robinson, and Ryan Cowden at the podium, and less than two weeks away from the first of three preseason games. 
With so many answers coming in the near future, there's one question on the mind of every Titans fan that seems to loom larger than the rest. Training camp is days away, and the Titans first round draft pick still may not be ready to go. 
All eyes will certainly be on Treylon Burks as he takes the field for practice in front of fans (hopefully) and suits up for his first game action in Baltimore. 
The results the come in the next few weeks will have a large impact on the future direction of the Tennessee Titans.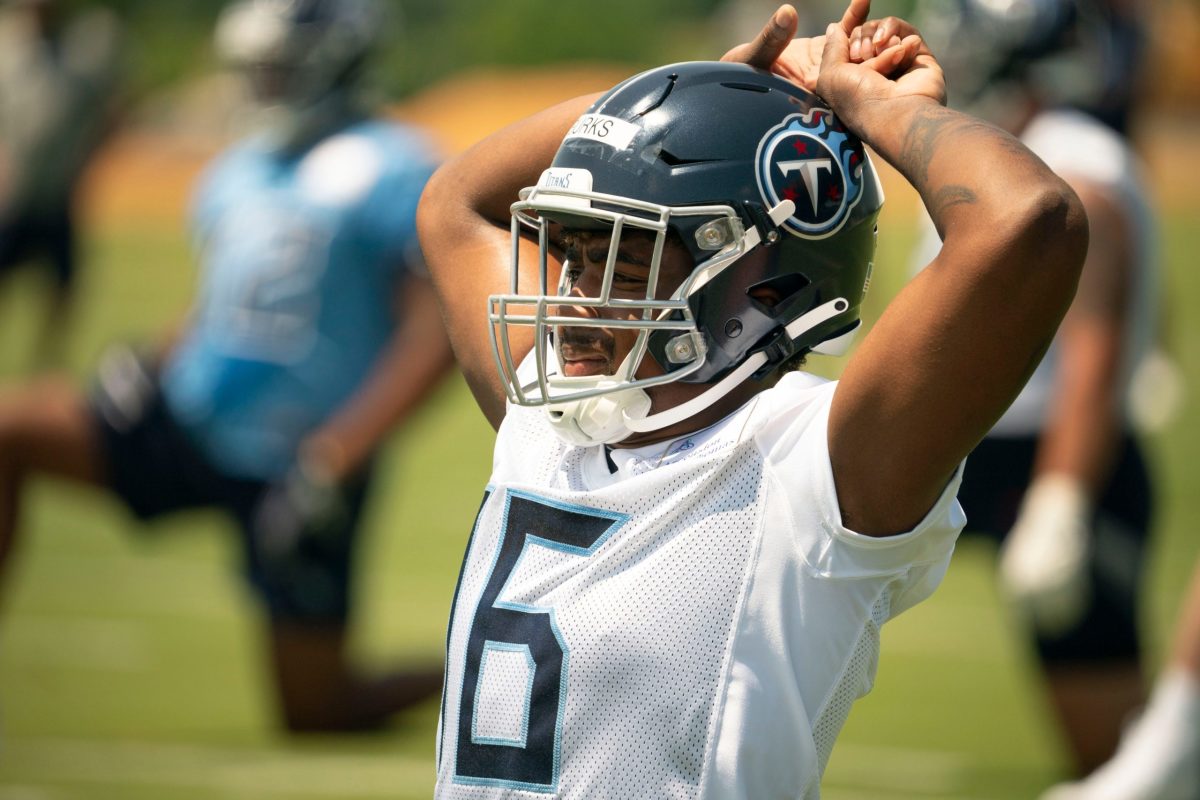 The Treylon Burks Saga 
A majority of the Titans offseason drama centered around the AJ Brown trade and the Titans selection of Arkansas WR Treylon Burks in the 2022 NFL Draft. 
Burks posted 1104 yards and 11 touchdowns for the Arkansas Razorbacks in his Junior season while demonstrating phenomenal hands and ball skills. He's a big target, at 6'3" and 225 pounds, with explosive speed that makes him a legitimate threat after the catch. 
Ironically, his college mirrored AJ Brown's NFL skillset in a lot of ways. 
The Titans made a move to draft Burks with the 18th overall pick in the 2022 draft after trading Brown to Philadelphia, but things haven't gone great for the rookie as far as first impressions are concerned. 
Burks struggled to practice throughout minicamp, dealing with conditioning issues that were later diagnosed as "asthma" by Titans WR coach Rob Moore, but Burks' college coach, Sam Pittman recently told 104.5 The Zone that conditioning issues are nothing new for Burks. 
#Titans WR coach Rob Moore on Treylon Burks and his struggles: It's unfortunate what happened. He's got asthma. It happens pic.twitter.com/VtTbGoemSf

— Buck Reising (@BuckReising) June 7, 2022
"I'm assuming he didn't go in there (to Titans minicamp) in great shape," Pittman said. "It was the same way when he was a sophomore — he wasn't in good shape. It's not that he quit, he just couldn't do anymore. He just was out of shape. I don't know what hunting hogs does for his cardiovascular but evidently not a whole lot." 
Pittman also shared in the interview that Burks "didn't have that problem with us" when it came to asthma. 
You never want to put too much pressure on an NFL rookie, but quite honestly, the Titans need Treylon Burks to be an impact player immediately in 2022. The Titans will find some of AJ Brown's production from veteran Robert Woods, but Tennessee is still lacking a true "number one" wide out. 
Burks doesn't have to be that right away, but you can't go into a season with Super Bowl expectations and Nick Westbrook-Ikhine (as much as I like him) as your number two target. 
The Titans offense will need to pass the ball with more volume and efficiency in 2022, and the only that may work is if Burks can have a significant impact as a rookie. 
As training camp plays out and preseason games unfold, Titans fans will finally get the answers they've been clamoring for regarding Burks' progress, and we will finally be able to gauge if his conditioning issues will be a serious hinderance moving forward. 
If it really is "asthma" that's bothering him, will it continue to prevent him from playing? If it's a mere conditioning issue, has Burks put in the work to get back where he needs to be? 
Until we can finally see him in action, the jury is still out.  
Image via George Walker IV / Tennessean.com-USA TODAY NETWORK