Bruce Arians' retirement is surprising, but it's not shocking.
For starters, he's the second-oldest head coach in the NFL, just one-year, 18 days behind first-place Pete Carroll. He also came out of retirement to coach the Buccaneers, so the thought of retirement has turned into reality before, regardless of reason. Lastly, it was well-hypothesized that Arians' run with the Bucs wasn't more than a five-year plan at best and the endgame involved one of his staff members taking over.
And the last reason is the catalyst behind Arians' decision to retire. Arians loves his Bucs staff and just about everyone who's ever worked for him. He's always been known to look out for the best of those around him and he's always trying to find some way to back his guys -and girls- up. When Arians forms a bond with someone it's a bond that lasts a lifetime.
There is no greater example of this than Todd Bowles, whom BA has known since the two first formed their lifelong bond as player-coach at Temple University in the 80s.
If you ever have had the chance to talk to Bruce and Todd, Kevin Ross, Nick Rapone…the entire Temple Football connection that exists in Tampa on that coaching staff, you know how much these guys love and respect each other. It's a beautiful thing. A lot you can learn from it.

— Louis Riddick (@LRiddickESPN) March 31, 2022
Arians hasn't been afraid to back his allies up in public, either. He's mentioned how it pissed him off that Leftwich didn't even get an opportunity to interview for a head coaching position after the Bucs won the Super Bowl. He's also been publicly open about allowing teams to interview Bowles (and Leftwich), among other displays of support.
Arians even said during the recent league meetings that he didn't understand how neither Bowles nor Leftwich received a head coaching job this past hiring cycle.
So what better way to ensure at least one of them gets their shot (or another shot in Bowles' case) by stepping down and essentially promoting one of the two? Especially when the Buccaneers are currently considered favorites to win the NFC and have the second-best odds of winning Super Bowl LVII?
"I'd rather see Todd in position to be successful and not have to take some [crappy] job," Arians told NBC Sports' Peter King. "I'm probably retiring next year anyway, in February."
Arians expounded on the topic more in his written statement.
"This team is in a much better place than it was three years ago due to Jason's great work and the Glazer family's commitment to winning. "I wanted to ensure when I walked away that Todd Bowles would have the best opportunity to succeed. So many head coaches come into situations where they are set up for failure, and I didn't want that for Todd."
It's crazy how quickly things can change. Less than three weeks ago, Arians and Co. were looking down the barrel of a Blaine Gabbert- or Kyle Trask-led Buccaneers team. The team had a ton of important free agents to re-sign with very little cap room to work with. And on top of that, Ali Marpet retired and the Buccaneers were facing one of the toughest schedules in the league.
National perception drastically changed. Vegas then considered the Bucs to be mid-pack in terms of Super Bowl favorites.
In other words: things were not looking good for the 2022 season.
Brady's return literally changed all of that.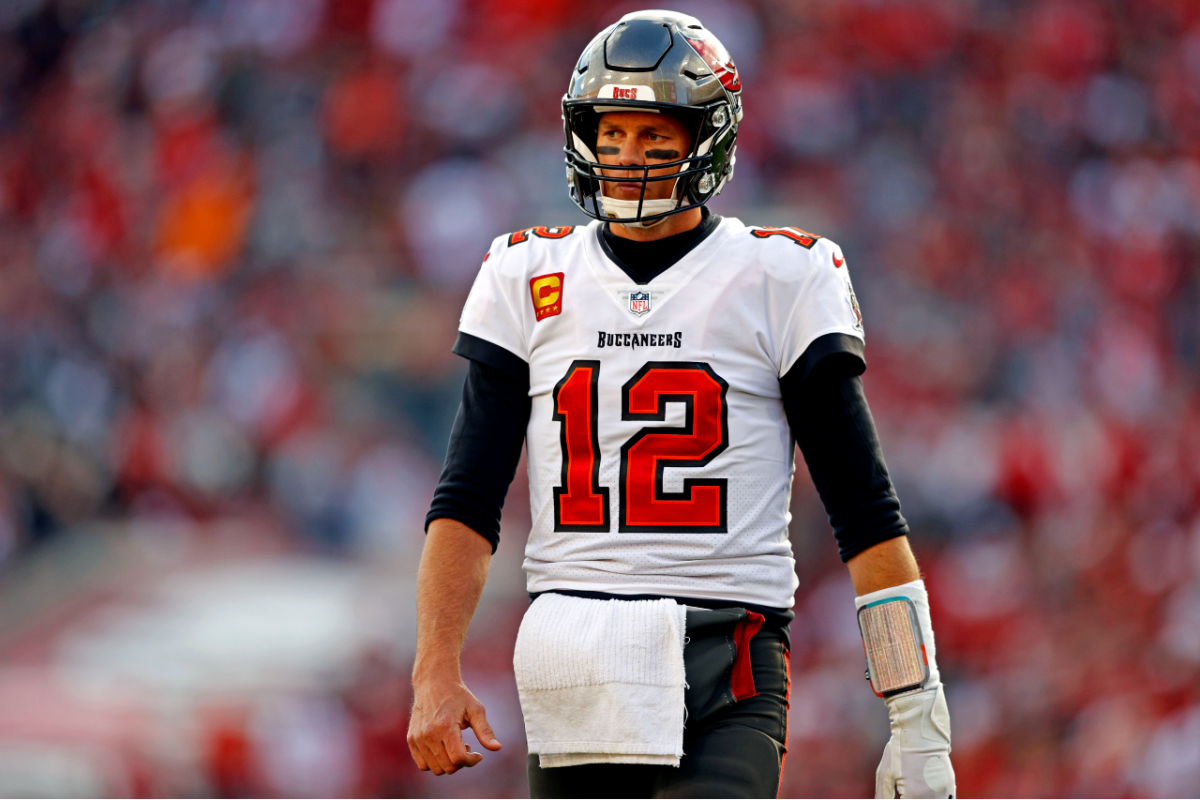 And look, Arians has been coaching his entire life. He knows how hard it is to not just succeed in football, but to sustain success in the sport is something few can do. The Buccaneers were facing a tough, tough challenge in 2022 until Brady came back. Now, their outlook is so much more optimistic than before. And Arians knows that 2022 represents an opportunity for his staff to find some major momentum that could very well help them sustain success moving forward.
His staff will likely never receiver a better opportunity for immediate success than 2022, either. Brady at quarterback and a strong supporting cast is the best shot at jumpstarting Bowles' next chapter as an NFL head coach. The staff under Bowles would only benefit as time goes on, as well.
"I control the narrative right now," Arians said. "I don't control it next February because [if] Brady gets hurt, we go 10-7, and it's an open interview for the job … I got 31 [coaches and their] families that depend on me. My wife is big on not letting all those families down."
It's an incredible act of selflessness from Arians, who has seen it all and been to the top of the mountain over the course of his career. It's an even bigger bonus that Bowles is Black. Not only is Arians just being a good person, but he's fighting against an issue that has plagued the NFL since the NFL has existed.
But, of course, silly speculation and false narratives have largely overshadowed this genuine moment of kindness and forward-thinking. The national storyline is that a supposed rift between Arians and Brady helped push BA out of coaching. The same rift that was supposed to send Brady to San Francisco and Miami.
You know, that rift.
Are we really supposed to believe that Brady is hiding behind the curtain in Wizard of Oz-fashion, pulling all these levers and making all these machinations happen? That he really has the Buccaneers held at gun point? After the franchise was already in position to move on without him before he came back?
Sure, two adults who almost combine for 50+ years of experience in the business couldn't settle their differences and instead swapped retirements to settle said differences.
Oh, and they're going to continue to work for the same team. In the same building.
Right.
Look, I'm in the media business, I get it: you've gotta get your clicks. However, the continued push on that this make-believe rift between Brady and Arians is what pushed BA out is simply ridiculous and more importantly – untrue.
And even worse, Arians and those associated with the Buccaneers are literally trying to tell the public how everything went down. Yes, there is always the chance that public relations is shaping the storyline to avoid certain public perception, but, no local media has ever confirmed the national media's claims of a rift between Brady and Arians.
it takes over what should be the real talking point: Arians backing up his talk of succession and his continued involvement in making the NFL workplace more diverse.
#Bucs QB Tom Brady was informed Bruce Arians planned to step down and Todd Bowles would succeed him as head coach either the same day or a day after the QB announced he was ending his retirement, the @TB_Times has learned. Team insists it was not related to Brady's decision.

— Rick Stroud (@NFLSTROUD) March 31, 2022
In many ways, Bruce's whole time in Tampa Bay was building toward this moment. Bowles was completely running the show on defense from day 1. And he surrendered more and more control of offense to Byron Leftwich every year. Leftwich was completely running the show last year.

— Jon Ledyard (@LedyardNFLDraft) March 31, 2022
Arians isn't just trying to make the NFL workplace more diverse – he is making it more diverse and this could be his greatest contribution, yet.
That's your story. That's your headline.
But sex sells. And the sexy story is the speculated tension between Brady and Arians. The same speculation that, again, not one local reporter has even come close to confirming.
Instead of appreciating what is likely to be a Hall of Fame coaching career and benevolent act, most have been reduced to suffering through tabloid-like gossip grounded in unconfirmed reports.
And it's a shame. Because the NFL has been looking for a feel-good story in this context ever since Brian Flores sued the NFL on the first day of February. You'd think they'd be trying to push this angle -the true angle- more into the light, but I guess it doesn't matter since they're making money regardless of publicity.
As the debate undoubtedly rages on, at least we know this to be true: Bruce Arians was a key player in reversing Tampa Bay's fortunes as a franchise and was a big reason why Tom Brady decided to play for the franchise.
Arians has changed the culture and he'll still be around to make sure said culture sticks. And for that, the Buccaneers and their fans will be forever grateful.
Even if the national perspective isn't.
Featured image via Mark J. Rebilas-USA TODAY Sports