Anytime the Tennessee Vols go through a coaching search — whether it's for a head coach or an assistant coach — fans always seem eager to see someone with a UT connection hired.
Tee Martin, Jay Graham, and Terry Fair, among others, were popular assistants at Tennessee because of their status as former Vols.
There's a player currently on the Vols' roster that I think could be a popular assistant coach at Tennessee at some point in the future (and maybe head coach one day?).
Senior offensive lineman Cade Mays.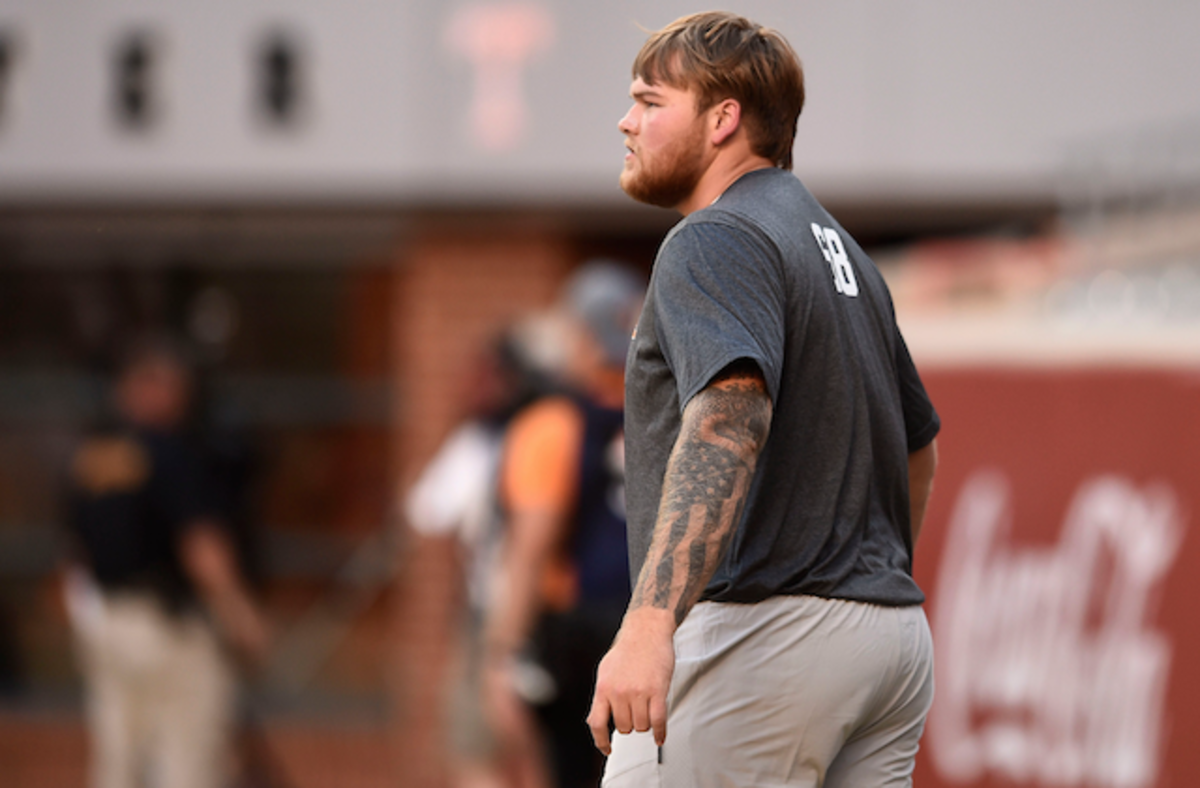 Mays, who started his collegiate career at Georgia before transferring to Tennessee before the 2020 season to play with his brother, Cooper, is essentially serving as a player-assistant coach this season while holding down the right tackle spot for the Vols.
UT offensive line coach Glen Elarbee talked about Mays' impact on Tennessee's offensive line on Wednesday night during Vol Calls. And his comments seem to indicate that Mays has incredible potential as a future coach.
"Cade, one, is awesome because he has seen it all," said Elarbee during his appearance on Vol Calls. "And he's so good technique-wise, too, even explaining some things, like, you're trying to make an adjustment, and he's like, 'Hey, man, relay it to this,' and guys know instantly what you're talking about."
Elarbee also credited Mays with helping the Vols' in their transition from previous offensive line coach Will Friend's style of play to Josh Heupel's style of play.
"There was change, there was a lot of change. And, man, I'm going to credit Cade again," said Elarbee. "He's done an incredible job. He's been through some of it at different spots, and he's constantly helping, coaching the room and, 'Man, do it this way. Hands here. This is how you control your body weight.' I think it's awesome."
"Anything I've asked of him (Mays), he's done a thousand miles an hour," continued Elarbee. "Just been awesome. There's things we've had you'd say, Hey, if this happens, you may have to do this or that, and he's like, Just wherever you need me, whatever you need me to do."
"He's so smart, man. He just really understands the game, puts in the time. We take tests every Tuesday and Friday. He always has an unbelievable, just flawless test. Knows every position. Just really, really fun to get to coach."
Mays is a smart kid, who has played under Sam Pittman at Georgia (current Arkansas head coach who has a reputation for being one of the best offensive line coaches in college football), Will Friend at Tennessee, and now Elarbee. Mays has also played every position on the offensive line, played in different styles of offense, and played in front of the rowdiest crowds in college football.
If he wants to be a coach, he'll have the credentials to instantly make an impact (for Tennessee or any other program).
It definitely feels like Mays could one day be an elite offensive line coach in the SEC.
However, before that happens, Mays has some other business to care of first.
The Knoxville native should have a productive NFL career — further solidifying his future resume as a coach.
Featured image via Bryan Lynn-USA TODAY Sports