The Cowboys are entering a world that they haven't experienced since early in the 2018 season. Wide receiver Amari Cooper's time with the Cowboys came to an end in March when he was traded to the Cleveland Browns.
With the four-time Pro Bowler gone, the WR1 role became vacant. Enter CeeDee Lamb, who is about to begin his third season with the Cowboys. Lamb was selected in the first round, so him eventually getting the top spot at receiver was a formality.
Lamb credits Cooper with teaching him some of the finer points of the game, so if anyone knows that the former 17th overall pick is ready for the challenge, it's him.
"CeeDee's been ready", Cooper said, via 96.7 The Ticket in Dallas. "Again, it's just about opportunity. I think if Kellen decides to feature him, he's definitely ready to step up. CeeDee is a playmaker. I'm just reminded of that Vikings game, when we were breaking the huddle. He was ready, then. He was like 'I want this fade.' We've all seen what he's able to do when you throw him the fade. He's been ready. He's going to make the plays when his jersey number is called, and I can't wait to see it happen."
Is that right, Cooper?
Offensive coordinator Kellen Moore has done some good things with the Cowboys' offense. In his three seasons, the Cowboys have had the top-ranked offense twice, and with how Dak Prescott was slinging the ball around before his injury in 2020, Moore could have made it three for three.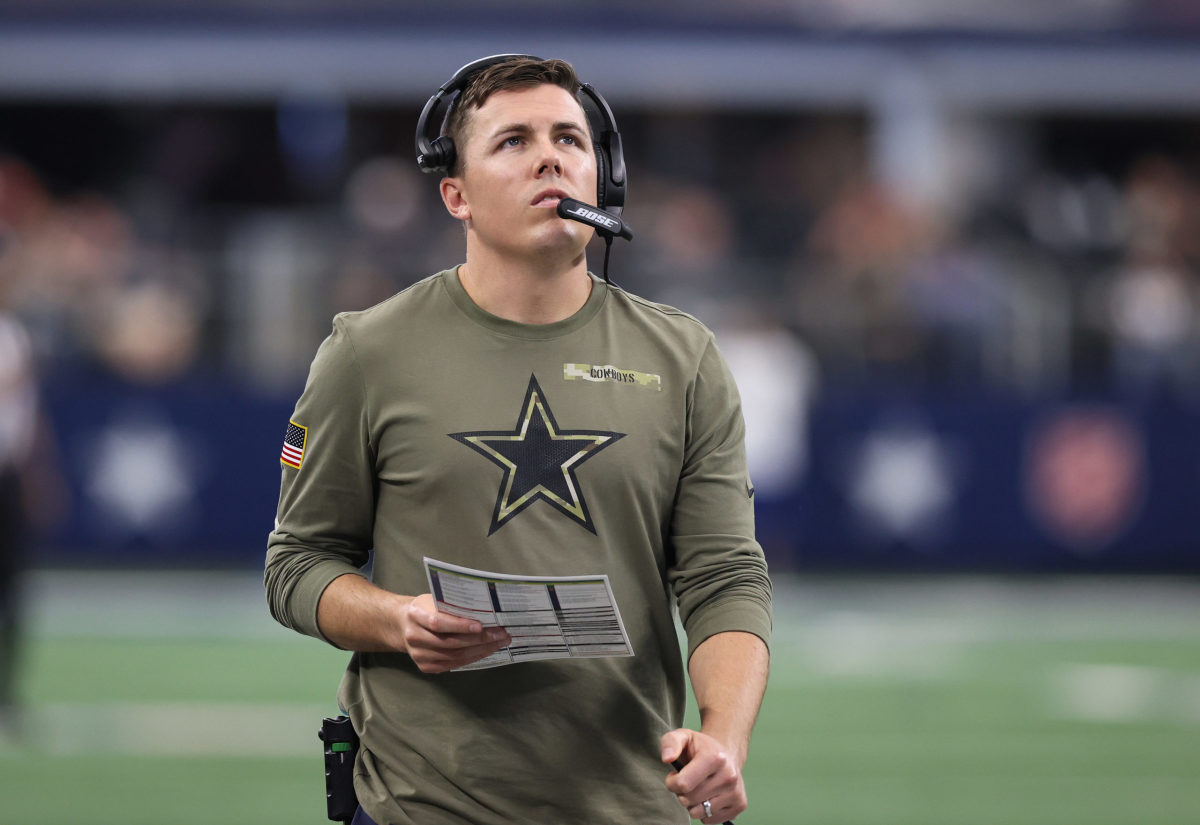 There's just been one problem with Moore, and that's featuring his top weapons. The aforementioned Cooper became frustrated with the lack of opportunities he was getting last season, and let it be known publicly.
"It's very frustrating," Cooper said back in December. "But that's not something that I can really control. But I do think there's a benefit in me getting the ball in those important situations, like red zone and third down, because I know what I'm gonna do, you know what I mean? I'm just going to stay ready for when that time comes. Hopefully it's soon."
The biggest disappointment for the Cowboys last season, of course, came in their first-round playoff loss to the San Francisco 49ers. After having the top-scoring offense in the NFL (31.2 points per game), the Cowboys managed just 17 points in the playoffs.
One reason for this dip in offensive production was the lack of targets Lamb received. Yes, Cooper was still the No. 1 target for the Cowboys, and he should have gotten all of the 10 targets he got against the 49ers, and maybe more. However, Lamb was the most productive receiver for the Cowboys last season with 1,102 yards so the fact that he only got five targets in the biggest game of the season doesn't make any sense.
Former Cowboys quarterback and Hall of Famer Troy Aikman was critical of Moore and his inability to get Lamb the ball against San Francisco.
"CeeDee Lamb, what did he have? One catch in the game?" Aikman asked in January on KTCK The Ticket in Dallas.
Lamb had a 32-yard reception negated by a penalty in the first quarter, and an 18-yard catch wiped out by another in the third quarter, so those don't count as actual targets. Besides that, Lamb was targeted three times in the third quarter and then two more times in the fourth quarter.
What that means is that Moore waited until the second half to get Lamb involved in the game plan, which is mind-boggling, to say the least. Aikman went on about how baffled he was with how little Lamb was featured.
"There was a lot of single coverage on CeeDee Lamb," Aikman continued. "If it was back when I was playing — and I hate going back to that point because nobody cares — but what I see around the league… a lot of these offenses, they want to scheme things. The coordinators, it's all about scheme rather than this corner is playing soft, he's scared to death. Just run the route tree. Just run a comeback. Run a dig route. Run a curl. Run anything. And you're going to complete the pass whenever you want, and Michael Irvin would have had 10 catches at halftime if they played us the way that they played CeeDee Lamb in that game. So, I just don't quite understand that."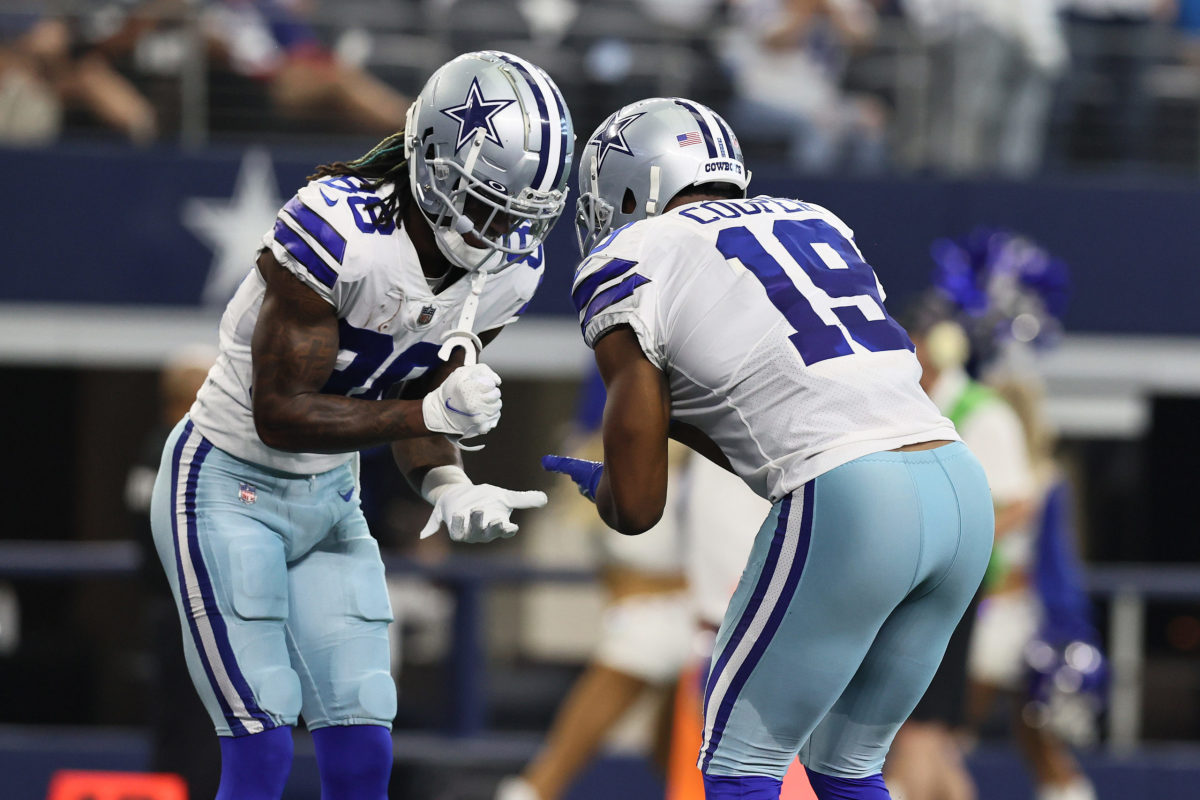 The Cowboys' struggles on offense in the playoffs were a continuation of their lack of consistency over the last few months of the season. Lamb talked about how the Cowboys deviated from what torched defenses earlier in the first few months where he registered all three of his 100-yard performances and scored four of his six touchdowns.
"I just feel like we got away from what we originally started the first 7-8 games," said Lamb. "When we popped out 6-1, we were very aggressive. … I felt like in the middle of the season we slightly got away from it."
Now that Cooper is gone, Lamb stands as the alpha male in the Cowboys receiver room. This also means that it's incumbent on Moore to feature Lamb, especially early on in the season with Michael Gallup expected to miss at least the first month as he rehabs his torn ACL.
It's not just Cooper that believes in Lamb's ability to be a No. 1 receiver, but Prescott does as well. However, there's nothing like self-confidence, and Lamb has plenty of it.
"I've been ready," Lamb said in May. "That's just me and my competitiveness. That's in my nature. It's kind of how we grew up playing football. I'm always ready for my name to be called.
"It's a dream that I've always wanted to live and now that I'm actually living it, I feel like it's my opportunity to fulfill it. So I'm looking at it as an opportunity."
The only way that dream can become a reality is if Moore makes getting Lamb the ball a point of emphasis.
Feature image via Tim Heitman-USA TODAY Sports