Michael Gallup returned to the field on Sunday in a 43-3 Dallas Cowboys win over the Atlanta Falcons. It was a dominant effort that saw Dak Prescott remind us why he has been in the MVP race all season long. It was exactly what the Cowboys needed before a crucial three-game stretch.
Gallup did not have a huge performance in the box score. He did not have an explosive play nor did he haul in a touchdown reception. Still, the Cowboys were much better with him on the football field for the first time since week one.
The Dallas Cowboys relied on CeeDee Lamb and Amari Cooper to pick up the slack while Gallup was sidelined with a calf strain that he suffered versus the Buccaneers. Cedrick Wilson and Noah Brown stepped up, but they aren't Michael Gallup.
Michael Gallup gives the Cowboys an elite wide receiver trio. However, more importantly, he gives Kellen Moore and the offense so much more creativity and options to play around with.
HOW COWBOYS FELT GALLUP'S IMPACT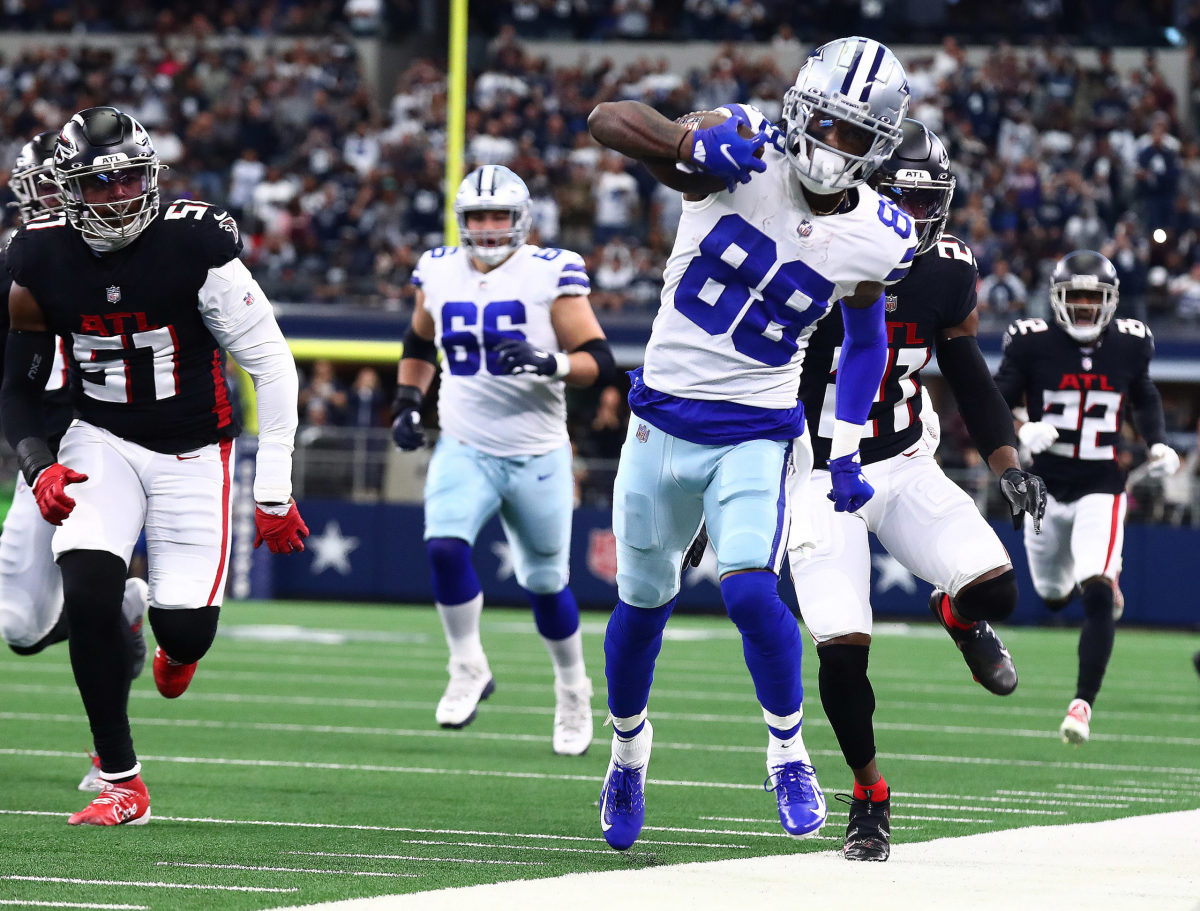 Dak Prescott threw for just under 300 yards, 296 to be exact. CeeDee Lamb totaled six catches for 94 yards and both of Prescott's touchdown throws. The passing offense really opened up.
Some of that can be attributed to a less-than-good Falcons defense, sure. That said, a lot of it can be attributed to Gallup's presence.
The return of Michael Gallup moved CeeDee Lamb into the slot with great success: @NextGenStats said Lamb lined up in the slot on 61% of his snaps in Week 10, up from 16% in Weeks 2-9. He caught all 4 of his targets for 48 yards and 2 TD when aligned in the slot.

— Calvin Watkins (@calvinwatkins) November 17, 2021
With Gallup on the field, the Cowboys were able to move around Lamb. CeeDee Lamb played more than half of his snaps in the slot and did incredible damage. The Falcons had no answer, and the Cowboys took full advantage.
Having Gallup on the outside allowed Moore to find the best possible matchups for Lamb and Prescott to exploit. Lamb is a cheat code in the slot and having all three of Amari Cooper, Lamb, and Gallup on the field together makes the Cowboys a nightmare to defend.
Michael Gallup caught just three passes for 42 yards today, but you can tell how big of a difference he made on the offense.

He allows CeeDee Lamb to go back to the slot, which makes him nearly impossible to stop.

— Marcus Mosher (@Marcus_Mosher) November 14, 2021
Michael Gallup not only provides the Dallas Cowboys with a legitimate deep threat. Gallup makes the Cowboys a better football team due to his overall impact on the offense.
The Cowboys have one of the best offenses in football regardless, but Michael Gallup certainly makes Dallas even more explosive of a football team.
Featured image via Tim Heitman-USA TODAY Sports