The deadline to trim rosters down to 53 is today, and the Dallas Cowboys have some difficult decisions to make. The amount of wide receivers that make the team, as well as the defensive backfield are a couple of roster decisions to monitor.
Quarterback is another area of interest. Dak Prescott is entrenched as the team's starter, but there has been some debate on who is backup will be in 2021. Andy Dalton, of course, signed with the Chicago Bears after filling in in 2020. That left a three-man battle between Garrett Gilbert, Cooper Rush, and Ben DiNucci for the QB2 battle.
It appears that the Cowboys have made their decision. Two of those three competing for the backup quarterback position have been released by Dallas on Tuesday morning.
COWBOYS CUT GILBERT AND DINUCCI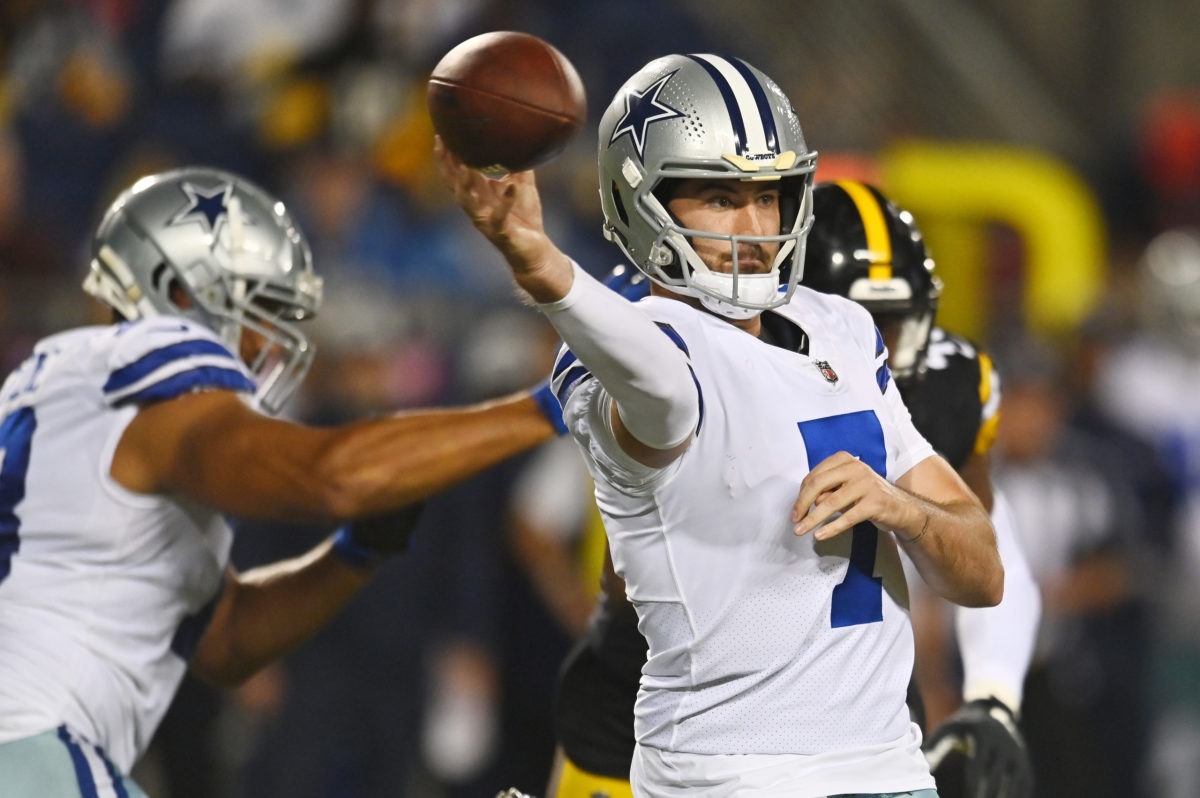 The Dallas Cowboys have opted to move on from Garrett Gilbert and Ben DiNucci. As ESPN's Todd Archer notes, that leaves just Dak Prescott and Cooper Rush at the quarterback spot.
Garrett Gilbert has been released, according to a source. Ben DiNucci also released. This leaves Cooper Rush as the No. 2 to Dak Prescott at the moment, Gilbert could be back on the practice squad. Perhaps DiNucci.

— Todd Archer (@toddarcher) August 31, 2021
Gilbert was thought to be the leader in the QB2 race for much of training camp and the preseason. The veteran quarterback peformed well agains the Pittsburgh Steelers last season, and it appeared that he was the frontrunner to be Prescott's backup.
A late push from Rush obviously has changed things. Rush played well down the stretch of the preseason and in practice. He earned the starting spot in the preseason finale and has a strong relationship with many around the Cowboys organization, thanks to his time with the team in the Jason Garrett era.
DiNucci, meanwhile, struggled mightily all camp and preseason long. The 2020 seventh-round draft pick failed to capitalize on the opportunities that were presented in front of him and left the Cowboys no choice but to cut him. There is a chance that Dallas does bring DiNucci back by signing him to the practice squad.
OTHER NOTABLE CUTS
It's a busy day around Dallas Cowboys world and the rest of the NFL, for that matter. Releases are being reportedly rapidly. Here are some of the other notable cuts that Dallas has made so far:
Safety Darian Thompson has been released, per Archer.
Defensive end Ron'Dell Carter has been cut, per Jane Slater.
Defensive back Steven Parker and offensive tackle Eric Smith were released this morning, per Patrik Walker.
Featured image via Billy Hardiman-USA TODAY Sports